C&I visits again with Yellowstone costume designer Johnetta Boone to talk about the looks, the inspiration, and how life imitates art.
Paramount Network's hit TV series Yellowstone is about to start its fifth season. While we're excited for more action, drama, and intrigue, we're also looking forward to the Western style boost every new season gives us.
That in mind, we took the first opportunity we could to reconnect with the woman responsible for all the amazing outfits on the show, Johnetta Boone. From detailing her winding career path to talking about celebrities she dreams of designing for, she was candid and insightful about the art of her craft.
And, of course, she was willing to dig deeper into the upcoming season of Yellowstone. After all, the show's authentic looks and character-driven approaches to style speak to Boone's expertise and passion for what she designs.
Read on for the highlights from our conversation:
---
Cowboys & Indians: How do you start on a new look for each character or build upon a previously created look for each season?
Johnetta Boone: Great question! With each character having a life of their own, I review the previous season's closets to build upon the looks for the upcoming season. For the Dutton Ranch Cowboys, they're practical and don't have too much. They live on the ranch in the bunkhouse. They landed there as day workers originally, and stayed. I gently introduce a few new items which are designed by the climate and determined by how much time has passed between episodes and seasons. As for Beth, since she's well traveled, we get to introduce new items often for her. Jamie's doing business so his look is pretty stable. JD has a collection of shirts, hats and boots which I also introduce based on the story line, with a commitment to the Western culture. We each have clothes in our own life and add new pieces seasonally. We remove the items which no longer have a place. It's the same for the each character on the show.
C&I: We know you can't give anything away for the upcoming season, but what is the tone in Season 5, and how did you communicate it through the clothes?
Boone: The tone for Season 5, I would say, is a business battlefield. Strong colors, strong lines, and sharp looks are what I went for to complement Taylor Sheridan's magnificent writing.
C&I: A lot of the characters have had some significant style evolutions from when you started in Season 2 to the current season. Any favorite evolutions?
Boone: Well, time passes along for all of us. As seasons change in life, our looks do so as well. Beth has really come into a much stronger position with her dad. Her fight was brought to her home. Her tactic of survival far surpasses what most would even consider. There's no shame in her game. Each time, she and I go deeper with lines and allow the color palette to support her evolution.
John Dutton is continuing a legacy and will let nothing get in his way. His strengths are incredible. He's also a cowboy, so we keep his lines defined. He always pops his collar to emphasize power. He has a subtle elegant Western look with a stylish flair. It's one that's not mistaken for a trend. It communicates his core values. He's a cowboy to the deepest part of his heart.
Monica's evolution is so simple. She loves her tribe and sees the value in remaining with her family. She has fallen deeply in love with a Westerner. While she has contemporary pieces as a part of her look, it's important to always have Indigenous pieces to represent her commitment to her heritage. We love reminding the audience of who she is.
1/3
My approach is from a place of authenticity, as art imitates life.
C&I: Was there a specific Season 5 look that was your favorite to put together?
Boone: That's a tricky one. I have a few favorites. Beth, of course, and our new characters, Sarah Atwood and Robert Baldus. That's more than "a favorite look." There are just so many.
C&I: Last time we talked, you mentioned how much research goes into every character's look, especially for the Indigenous characters. Can you speak to Kayce Dutton's Season 4 finale "vision quest" experience and how you fit his look to this experience?
Boone: What a journey! I must contribute my process to the support of Mo Brings Plenty. He's also our Director of Indigenous Affairs. His stories speak deeply to me. When he shares of the processes by which things are taking place, envisioning the look comes immediately. He also is very generous with sharing supporting research. Together, we confirm the look that's appropriate, respectful, and accurate to the Tribes and culture.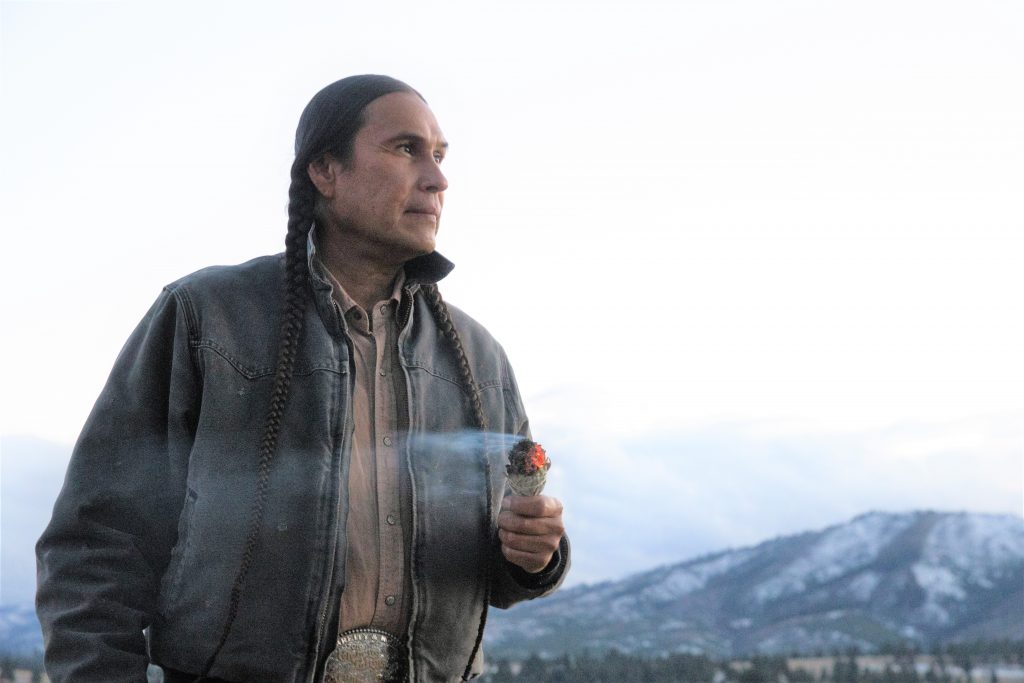 1/3
C&I: As Western style reaches the mainstream, do you ever pull from those trends for the Yellowstone characters?
Boone: Western style certainly has become more mainstream. My approach is from a place of authenticity. ... They're pulling from the world of the Western culture. Now, there are a couple of characters I very carefully pull more fashionable pieces for, while being careful not to go against the Yellowstone brand or the life we are a part of.
C&I: Native designers are also really getting the spotlight they deserve.
Boone: My desire is include the Indigenous people in the show especially with the incredible representation we have from our cast. I'm always looking for more artisans.
C&I: Do you sketch any characters beforehand or work more organically?
Boone: With the show being as busy as it is, sketching beforehand isn't usually something I do. Pulling the looks together happens organically. Finishing touches happen at the time of dressing. This allows for us, the cast and myself to really feel the moment which inspires us.
C&I: Are specific brands of the West helpful to you in creating looks?
Boone: Of course; I love working with so many. There are several who contribute generously to the Yellowstone brand. I receive countless inquiries with regard to the items worn on Yellowstone and where they may be purchased. Studio One has created an amazing platform for shopping the looks. It's called Shop the Scenes.
---
Check Out Shop The Scenes
Shop The Scenes is the new immersive shopping platform from 101 Studios and Emmy Award-winning television personality Jill Martin.
Through a scannable pop up QR code, viewers will be virtually transported to the Dutton Ranch.
Audiences will have the chance to purchase authentic products inspired by the show and in collaboration with the show creators. Keep an eye out for the QR code or visit shopthescenes.com.
---
C&I: What movies or TV shows inspired you early on in your career?
Boone: That's a question that I have to really think about, because, interestingly enough, when my career first started, I never thought I would be in the film industry at all. I started [working] in the '80s and started thinking about the world of costume design even earlier than that, probably in the '70s. And it was completely unattainable because everything was in LA and I'm on the East Coast in Washington, D.C., so there's no possibility that I would ever be entrenched or become a part of this world. So I would oftentimes take a look at the older movies from the 1940s and '50s and just really think about how great it would be to do projects like that. So those are the ones that really inspired me in the beginning of my career, because I love the richness and the elegance, whether it's Western or contemporary from the earlier shows.
1/4
People dressed so handsomely [in the 1940s and '50s]. You know, there weren't any jeans or anything. People just dressed to do everything, and everything was impeccable as far as fit. And the association of colors and patterns, even though a lot of those movies were black and white, still brought everything to life. So that was where my inspiration came from, as well the earlier westerns like The Magnificent Seven with Jewel Grinner. That's where it all resonated with me. I also love Clint Eastwood. Who doesn't love Clint Eastwood? That all inspired me as well as far as Yellowstone is concerned. I just love how authentic everything looked and felt.
I absolutely love it when an actor is committed to the character and not to themselves.
C&I: Are there any other shows you're also working on at the moment?
Boone: Well, it's a bit tricky because I work on for almost a whole year on Yellowstone. It doesn't give enough time to do anything else in between. But, I did Hustle with Adam Sandler, which was a great film.
C&I: What celebrities do you dream about designing for?
Boone: Being able to work with the older thespians is an honor just because of the magnitude of the projects that they've worked on and because their craft is so well-defined.
On Hustle, I got to work with icons in the basketball arena [which] was pretty impressive. But I love the older actors who've been around for decades because [of] their attention to the detail and the time that they spent perfecting their craft. [It] adds another element to my approach to costume design, because I absolutely love it when an actor is committed to the character and not to themselves. So it doesn't matter what they're wearing. When you're working with actors who are committed to their craft, the clothes can come from Walmart and don't have to be designer or the latest trend.
---
Stay tuned for a breakdown on some of the most iconic Yellowstone looks and recaps on each episode in Season 5. And head to our C&I Shop to get the Yellowstone Collection of issues with Yellowstone stars on the cover.