Bull rider turned Oscar-winning songwriter turned breakout Yellowstone star Ryan Bingham is living proof that wild hearts can't be broken.
I'm still flying by the seat of my pants. A lot of this is just rolling the dice and seeing what happens. ~ Ryan Bingham
Ryan Bingham is finally having some fun. Don't get me wrong — the 42-year-old musician and actor has always had a roll-with-the-punches kind of attitude. It's just that life has thrown him more than his fair share of punches. These days, he's feeling comfortable in his own skin and taking it all in stride.
The latest chapter in the wild ride of his life is of course his standout Yellowstone role as Walker, the Dutton Ranch's down-on-his-luck, up-to-no-good ranch hand who everyone loves to hate (or loves to love, depending on your stance). In many ways, Bingham and his character have a lot in common. They've both been shaped by their tumultuous, traumatic pasts. They've both spent years as drifting vagabonds. They've both got ranching skills aplenty. And they both carry around a guitar for when the mood strikes.
American Hat Co. black felt hat, Wrangler pearlsnap shirt, Wrangler jeans, Beck Cowboy Boots
But that's where the similarities end. Unlike ex-felon Walker, Bingham has never done hard time — though he did find himself in a jail cell in his teens for hanging with the wrong crowd, plus his grandmother once told him she was surprised he wasn't in prison. "Yellowstone gives me an opportunity to be myself in a lot of ways, but my character is definitely more cocky than I am," he says with a laugh. "Personally, I'm a little more on the ranch's home team and less conflicted about the things going on there."
How Bingham landed his role has become part of Yellowstone lore, one of many tales about mastermind Taylor Sheridan's un-Hollywood approach to show-running. "Originally, Taylor contacted me about writing some songs for the show," he explains. "Then when he discovered my family ranched and I used to ride bulls, he said, 'Well, shoot. We gotta get you in the show. If you're good, we'll keep you on. If you suck, we'll kill you off.' I'm not dead yet."
As Yellowstone fans know, Walker has had a couple close calls with fate but has some serious staying power. That works out well for Bingham, who's gotten a new lease on life thanks to working on the show. "I really love staying in Montana for the summer while we shoot and just being in one place," he says. "While out touring, I spend so much time in big cities and on concrete. Yellowstone really gives me a chance to slow things down. It helps me get back to horses, back to nature, back to seeing food grow out of the ground and what it takes to do that."
Although he has incredible respect for the seasoned actors he gets to work with and learn from — Kevin Costner, Luke Grimes, Kelly Reilly, and Cole Hauser to name a few — his favorite costars might just be the horses. "I grew up in the country, and I love being out in nature and getting to work with horses every day," Bingham says. "That's definitely in my blood and something I really appreciate about the show. Working with horses is a very humbling thing. They're so strong and powerful yet at the same time such empathetic, sensitive creatures."
His partner in crime for much of Season 5 was a big gray gelding named Ironside. "He's a big old guy and just a sweetheart; I absolutely fell in love with him," he says. "I roped off him a lot, and I did all the branding scenes on him. He took really good care of me and was super calm and gentle with all the noise on set."
Working with horses is a very humbling thing. They're so strong and powerful yet at the same time such empathetic, sensitive creatures.
For inquiring minds who want to know (like me), Bingham explains that ranching and riding experience isn't a prerequisite for being on the show. Yes, they film on real ranches with real livestock, and real ranch hands help out on those scenes. But not all actors come in with that know-how. "I feel lucky that I had the experience growing up, but some of the other actors have never been on a horse in their life," he says, naming Jefferson White, who plays Jimmy, as an example. "I have a lot of respect for them because they get out there and work hard at it. It's been fun to watch, and you can tell it's filling up their souls in ways that the big city can't."
For Bingham, Yellowstone feels like home. Born in New Mexico, he spent his childhood drifting through California and various parts of Texas, never in the same spot for more than a year or two. Having lost their ranch, his unpredictable alcoholic parents uprooted his family time and again in constant pursuit of work in the oil fields. As a result, Bingham felt like a perpetual outsider. He found some stability in the rodeo, where he started riding steers at age 11 at the urging of his uncle, a professional bull rider. Soon enough, he was making some money and breaking some bones.
1/1
It wasn't until his later teens that he picked up a guitar, a gift from his mom, and learned to strum a few chords thanks to a mariachi neighbor. Pretty soon, he was writing his own songs and playing at dive bars, bowling alleys, backyard barbecues — anywhere that would have him. Once that started bringing in a few hundred bucks a pop, he could leave his manual-labor side gigs behind. The guitar granted him freedom in more ways than one. 
"Financially, it allowed me to work for myself and gave me the opportunity to travel to places I probably never would have had the opportunity to see," Bingham says. "Emotionally, it gave me an outlet for a lot of things that needed to come out and that I needed to process. That really freed up my soul." 
And there's a lot to process. The nomadic nature of his youth that left him without a true sense of belonging. The rough-and-tumble life of a rodeo rider and a budding musician on the road. And the untimely deaths of both his parents, his mom to alcoholism and his dad to suicide.
The earlier of his seven albums lean more autobiographical, to devastatingly beautiful effect. These days, his music is certainly still cathartic but often serves to help him process the world around him, rather than the world inside him. For instance, his most recent album, American Love Song, touches on pressing topics like political division and gun violence.
That kind of raw authenticity has earned Bingham a dedicated fan base who are drawn to his genre-bending sound that encompasses country, folk, blues, punk, rock 'n' roll, and everything in between. Which makes perfect sense when you consider his wandering life story and his early influences: Muddy Waters, Bob Dylan, Woody Guthrie, the Rolling Stones. "At first, I was writing songs that were more or less just for myself," he says. "But then I'd hear from fans how they'd connect with the songs. That made me realize how much we as human beings have in common through the emotional roller coaster of life."
American Hat Co. grizzly felt hat, Free People scarf, Tecovas denim pearl snap shirt, Wrangler jeans, Beck Cowboy Boots
He still holds some music close to the vest. "The thing about writing and recording music is that it stays around forever," he says. "If you don't want to relive that memory you're expressing, you'd best not record it, right? There are certain very personal songs I choose not to share. Not everything is meant to be put out into the world, and I'm still very protective over it. It's a sacred thing for me."
Bingham had no choice but to embrace the spotlight when his song "The Weary Kind" — cowritten with T Bone Burnett for 2009's Crazy Heart — won him an Oscar, Golden Globe, Grammy, and Critics Choice Award. "I was touring around the country in a van with my buddies playing bars and honky-tonks; then all of a sudden, I'm at the Oscars wearing a tuxedo," he recalls. "Afterward, the floodgates just opened up to opportunities, introductions, and different projects. That's led all the way up to Taylor Sheridan and working on Yellowstone. It was a life-altering thing."
American Hat Co. grizzly felt hat, Double RL floral print snap shirt, Double RL suede leather jacket, Wrangler jeans
Of course, that doesn't mean it was easy. "It was very overwhelming and surreal," Bingham says. "I wasn't ready for it, even on a maturity level. I was pretty young, in my early 20s, and there were a lot of things I was still trying to figure out personally. Then you're put in front of millions of people, and people are saying all these things about you that you're not even sure are correct or true for yourself. It humbled me and made me grow up in a lot of ways."
That prompted a flurry of new fans, who weren't necessarily familiar with his definition-defying sound. "A lot of older people would come to our shows expecting this sit-down acoustic folk singer; they didn't realize we were a rowdy punk-rock cowboy band," Bingham says. "But for the most part, people have really been open to letting me explore different sounds and throw different types of songs at them. That's been pretty cool."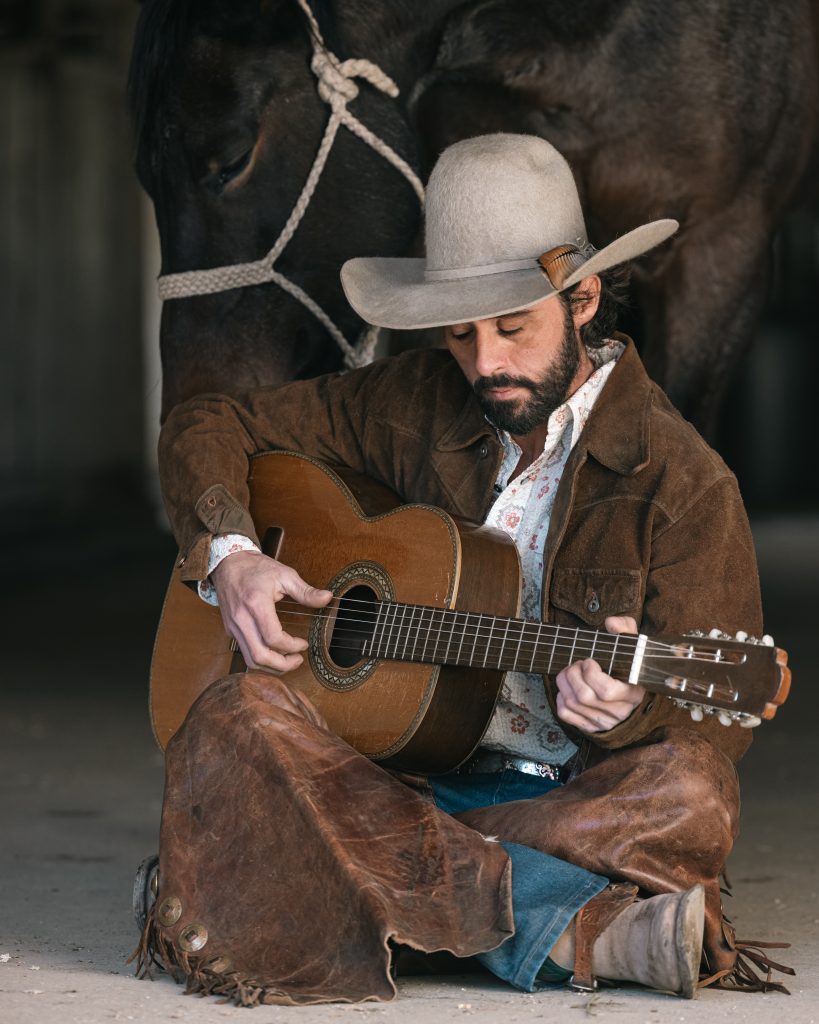 1/3
---
Although there's still a familiar forlornness to his music, he's learning to embrace some levity — another unexpected result of working on Yellowstone. "When it comes to acting, I get to play Taylor Sheridan's character and just have fun with it," he says. "I've been able to take that and really lighten up on the music side. I've realized it doesn't always have to be so heavy. When I was younger, everything felt like life or death. I think I've settled into myself in a little older age, and I'm a lot more comfortable with the business and how it works. I'm just having fun with it."
That sense of ease is apparent as Bingham and I are chatting ahead of sound check at the first of his 2023 concerts, at Denver's Mission Ballroom. Rather than playing at any venue that will take him like the early days, now, thanks to the incredible reach of Yellowstone, he gets to play the shows he wants, in front of ever-growing crowds. The die-hards still turn out in droves and educate the newbies about his vast, varied music catalog, proving there's plenty more to the real man than his TV character.
Those longtime devotees were also a driving force behind his latest venture, an eponymous spirits company whose Bingham's Bourbon hits this year. While it might seem like a departure, it's actually a natural fit. "At one of my very first gigs in a tiny little Texas bar, the owner told me, 'Kid, if you can keep people buying drinks, you'll always have a gig here,'" he recalls. "So in a way, that made me think as long as people are drinking and enjoying themselves, I'll still have a job."
Bingham has been intimately involved in developing the whiskey, taking cues from his travels to destinations like Ireland and Scotland to perfect the flavor profile. To honor his roots and his biggest fan base, the bourbon is made in the Lone Star State using exclusively Texas-grown rye, wheat, barley, and corn. As Bingham explains, it's quite literally the distilled spirit of Texas.
Although his plate is plenty full these days, he's finally in a place where he's only doing the work he wants to.  That leaves some room for favorite activities like riding his horses and surfing near his California home. "Not everything has to be about the money," he says. "There's got to be something more to it, like integrity and passion. When it comes to writing songs, you have to be careful about what you write, because you might not want to sing it when you get out there on stage. I try to approach everything with that mentality and make sure it's something I really want to be doing 10, 20 years from now."
Lest this sound like Bingham has crafted some sort of master plan for life, rest assured he's still just going with the flow and honoring what the universe puts in front of him. "I'm still flying by the seat of my pants," he says with a laugh. "A lot of this is just rolling the dice and seeing what happens."
That blow-with-the-wind attitude serves him well on Yellowstone, where Bingham is on a need-to-know basis — meaning he doesn't know the outcome of the cliffhangers or plot twists any more than avid fans do. "My character's not privy to a lot of information, which works well for me," he says. "Even when you think you know what's going to happen, after a few days of filming, they might come back and say, 'We're going to redo that and write something different.' So you never know until it's all edited together. I enjoy not knowing; it makes it more fun to watch when it comes out."
After a lifetime of turbulence, it seems Bingham has started to embrace the uncertainties and actually enjoy the wild ride. He's found his place in the world, although he's still not in any one spot for too long (unless that's Montana while filming Yellowstone). And by all accounts, he's finally letting himself have a little fun.
---
Check out our Ryan Bingham Spotify playlist to get familiar with the cowboy's greatest hits!
---
Photography by Chris Dickinson
Ryan Bingham was photographed in Los Angeles for C&I's April 2023 issue by photographer Chris Dickinson.
Find out more at ryanbingham.com and binghamspirits.com