The King of Rock and Roll honeymooned with wife Priscilla at The House of Tomorrow.
Step inside Elvis Presley's honeymoon hideaway and travel back to the future.
The ultra-modern home in Palm Springs, California, was built in the early 1960s, dubbed The House of Tomorrow by Look magazine in 1962, and caught the eye of the King of Rock and Roll as he and Priscilla made wedding plans in 1967. This piece of architectural and music history is now on the market for $5.65 million.
Elvis discovered the home through his manager Colonel Tom Parker, who lived nearby. Originally, Elvis and Priscilla planned to also have their wedding at the house, but when the media found out about their plans, they dashed out the back and flew to Las Vegas for a quick ceremony on May 1, 1967, before returning to the home for their honeymoon.
The futuristic property was built in the Vistas Las Palmas neighborhood by the famed Alexander Construction Company for founder Robert Alexander, wife Helene, and their young daughter. The company built 2,200 homes in the area between 1955 and 1965, changing the shape and direction of Palm Springs, and Las Palmas became the neighborhood of choice for the "New Hollywood" crowd.
1/6
Click on the slideshow to see photos of the exterior of the home. 
---
Designed by architect William Krisel, the honeymoon hideaway boasts 4,695 square feet and was built with four circular living areas on three levels with a curved wall of stonework. The main living area has a center-of-the-room fireplace with chimney suspended from the ceiling, and the kitchen has a round center island with a twin of the living room fireplace hood.
There are four bedrooms and five bathrooms, including a lavish master suite offering panoramic views and a discreet observation deck. Outside is a private garden, swimming pool, and lush lawn.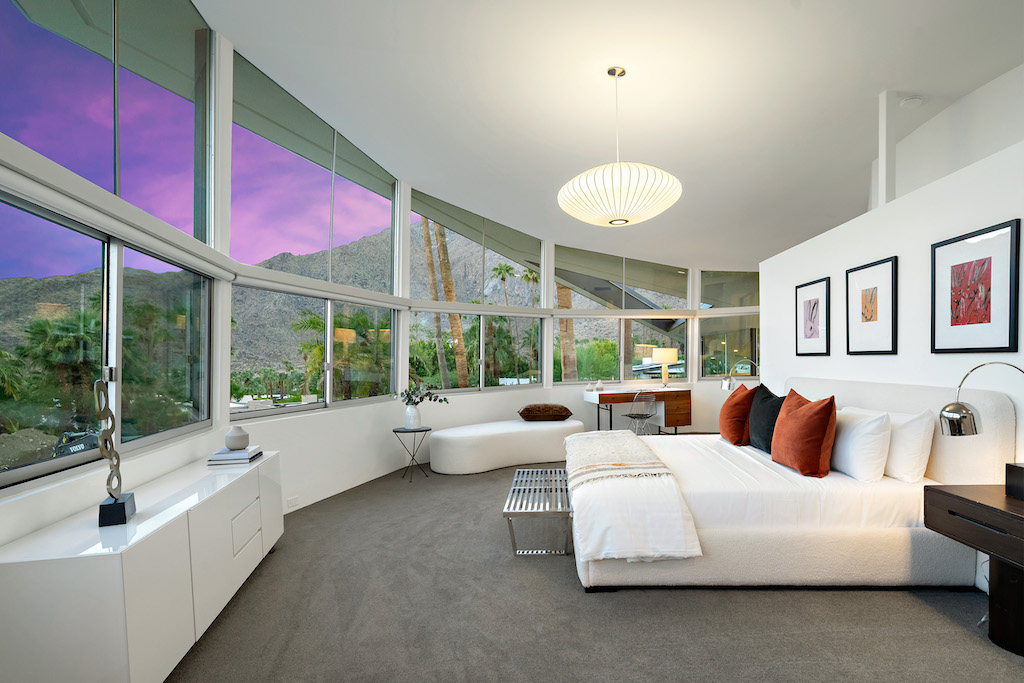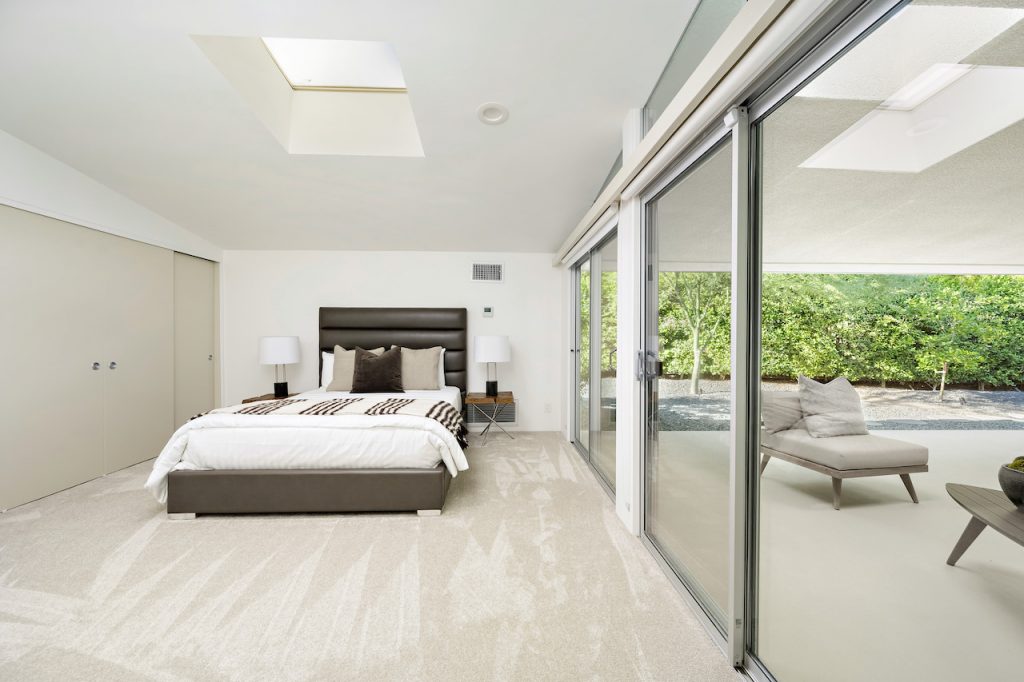 1/6
Click on the slideshow to see photos of the interior of the home. 
---
The home recently underwent a two-year renovation in which original architectural details were restored, ensuring its Class-One historic designation. Alexander homes are highly sought after, but the honeymoon hideaway is the largest with the largest pool, on the best lot, and perhaps the most famous. Elvis and Priscilla Presley lived in the home for about a year following their honeymoon.
Palm Springs, California
4,695 square-feet
$5.65 million
Listed by Marc Sanders, Compass.
Photography: Chris Miller/One Point Media Group, courtesy of Compass. Property details: Top Ten Real Estate Deals.