Photography: Erik Woake/Courtesy Stagecoach Country Music Festival
If you enjoy hitching your vacations to large cultural events, get out your calendar and get ready to mark down some of the greatest festivals and gatherings in the American West. We've got options in every state, so there are possibilities for family fun both near and far.
Stagecoach Country Music Festival
Indio, California
April 27 – 29
The basics: The three-day, countrified sister music festival to Coachella connects families and friends who embrace the country music lifestyle.
Back story: Now in its 12th year, and produced by Goldenvoice, the same company behind Coachella, Stagecoach has come into its own. It is currently one of the top-grossing music festivals of any kind —75,000 people per day attended in 2017.
What to do: Line dance, two-step, and sing along to live performances, all day and all night. This year's lineup includes headliners Garth Brooks and Trisha Yearwood, Keith Urban, and Florida Georgia Line, along with Dwight Yoakam and Ronnie Milsap, Lee Brice, and Brett Young. stagecoachfestival.com
National Cowboy Poetry Gathering
Elko, Nevada
January 29 – February 3
The basics: As soon as the old year gives way to the new, it's time to start thinking about heading to Elko for some good times and rustic rhymes among some of the West's best poets, musicians, storytellers, and artisans.
Back story: Now in its 34th year, the nation's original cowboy poetry and music festival began as the Elko Gathering, or simply "Elko," and got its current name from an act of Congress. Over the years this Western Folklife Center event has evolved from a casual gathering of ranchers and cowboys sharing their poems to one of the country's premier festivals celebrating the life and culture of the American West.
What to do: Immerse yourself in six days of poetry, music, dancing, workshops, exhibits, conversation, food, and camaraderie. See intimate performances in the G Three Bar Theater. Check out the Wiegand Gallery; don't miss its gift shop stocked with local artisanal items and books and CDs about life on the range. nationalcowboypoetrygathering.org
See also: Monterey Cowboy Poetry & Music Festival in Monterey, California; and the Heber Valley Western Music & Cowboy Poetry Gathering in Heber City, Utah.
Spirit of the West Cowboy Gathering
Ellensburg, Washington
February 16 – 18
The basics: Prepare for three days of music, poetry, food, and authentic cowboy culture in a family-oriented atmosphere that will transport you back to a simpler time.
Back story: At the suggestion that a cowboy gathering would perfectly fit the city's profile, the first event in 2005 included some of the best traditional cowboy musicians, poets, and artists, plus a gear show, workshop, and dances.
What to do: Shop for treasures at the gear fair, hear top-name cowboy poets and musicians, and cheer on your favorite fiddler. ellensburgcowboygathering.com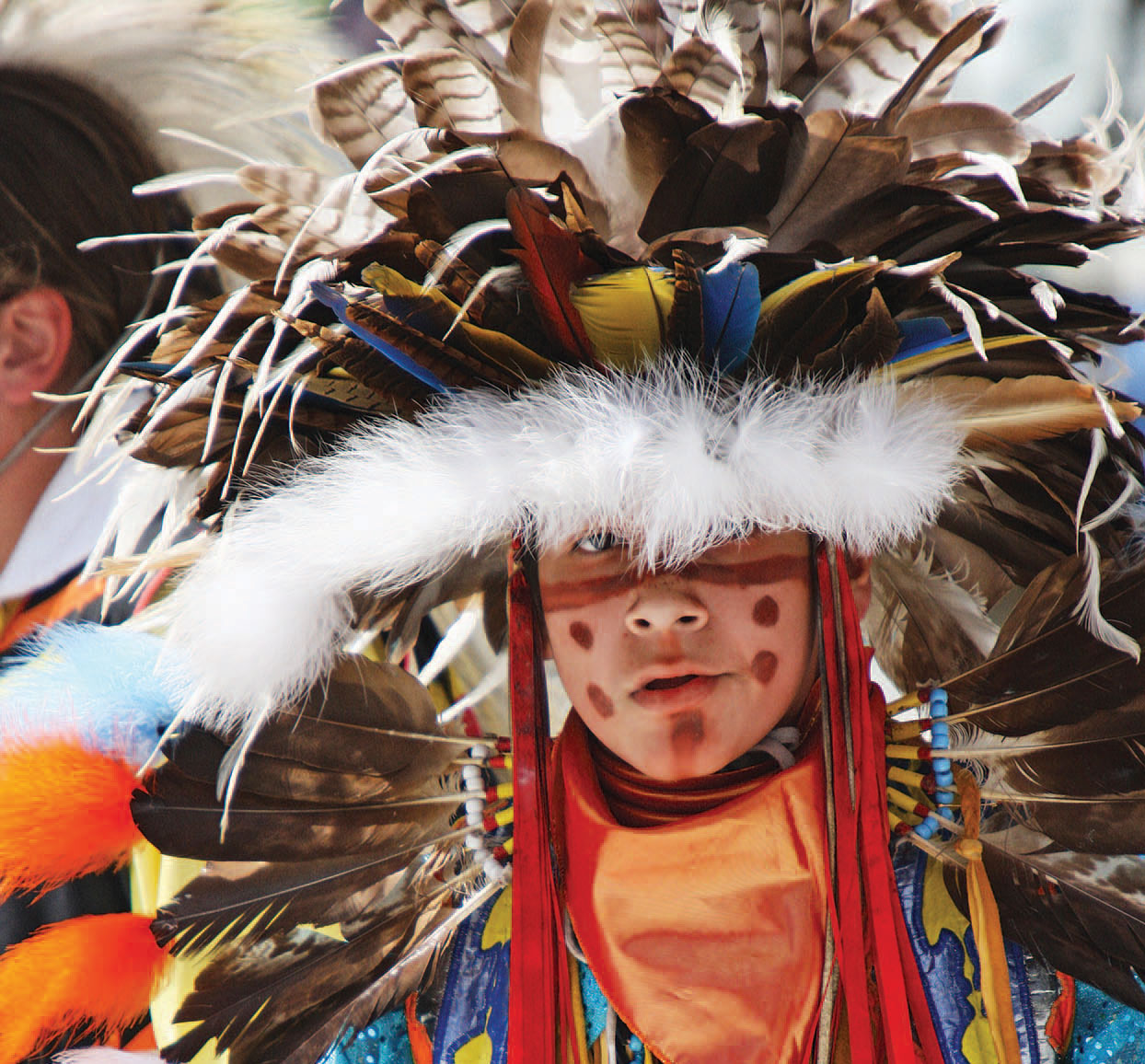 Gathering of Nations Pow Wow
Albuquerque, New Mexico
April 26 – 28
The basics: For three colorful, drum-filled days Native Americans bring their traditions and regalia to the largest indigenous culture festival in North America.
Back story: The brainchild of Derek Mathews, the event began as a student activity at the University of Albuquerque in 1983. Its success forced a move to a larger facility the following year as the Gathering of Nations Pow Wow. Growing exponentially over the years, today the festival features more than 3,000 dancers and 40-plus drum groups from across the United States and Canada, and draws 80,000 attendees from around the globe.
What to do: Take in singing and dancing competitions, the Horse & Rider Regalia parade, Indian Trader's market, Teepee Village, and the native food court with its Indian fry bread, red and green chile stews, and Pueblo oven bread as well as healthy vegetarian options. Don't miss the Miss Indian World Pageant, the Grand Entry, and Stage 49, which features more than 35 bands including Native American musicians and musical groups. gatheringofnations.com
Bishop Mule Days
Bishop, California
May 22 – 27
The basics: It's a celebration of the history and sportsmanship of the mule through shows, performances, and competitions.
Back story: Mule Days began on Memorial Day weekend in 1969 as a way to mark the beginning of the packing season; it's now a nearly weeklong event that draws more than 700 mules and riders annually
to compete against each other in equestrian events.
What to do: Mule Days is a lot like a rodeo but with mules instead of horses, and more events, too — there are 14 different shows to attend, including English, cattle working, team roping, and chariot racing. Visitors to the event can also take in the longest non-motorized parade in the country. Don't miss this year's concert by Dave Stamey and Kristyn Harris, both Western Music Association Entertainers of the Year, on May 23 and 24 at Charles Brown Auditorium. muledays.org
John Wayne Birthday Celebration
Winterset, Iowa
May 25 and 26
The basics: A celebration of legendary film actor John Wayne, who starred in nearly 100 westerns, including his Academy Award-winning performance in True Grit.
Back story: On John Wayne's 100th birthday in 2007, the museum that bears his name threw a party, and tens of thousands of fans descended on the town of 5,190. Because it was a hit, they decided to keep up the tradition of celebrating his birthday through an annual two-day celebration benefiting the John Wayne Birthplace & Museum.
What to do: On the first day, get your John Wayne on and go to the 100-year-old, newly restored Iowa Theatre to watch vintage Wayne films and tour the John Wayne Birthplace & Museum. The next day, get up early for the annual pancake breakfast, and then wave at the riders of the all-horse parade. johnwaynebirthplace.museum/2017-birthday-celebration
Chuck Wagon Festival
Oklahoma City
May 26 – 27
The basics: Get an authentic taste of late-19th-century cowboy life on the cattle trail at this two-day family festivity filled with vintage chuck wagons, food, Western history, and fun for all ages.
Back story: It started in 1991 to bring historic chuck wagons and working crews to Persimmon Hill, a Chisholm Trail landmark located behind the Cowboy & Western Heritage Museum, to demonstrate authentic methods and foods used on the trail. The event has since moved down the hill to more easily accommodate kids' activities and encourage visitors to tour the museum.
What to do: Check out the artisan demonstrations and petting zoo, get your picture taken with a longhorn, and keep an eye out for historical reenactors, including Annie Oakley, Frank Butler, and a traveling salesman who may try to sell you some of his wares. Rope-making, bandanna coloring, and cornhusk action figures are kid favorites. Don't miss the stage entertainment or chances for talkin' recipes and cooking methods with the cooks. Save room for biscuits and stew. nationalcowboymuseum.org
See also: American Chuck Wagon Association Championship Cook Off in Fredericksburg, Texas.
CMA Fest
Nashville
June 7 – 10
The basics: Music City pulls out all the stops with 167 hours of live music, plus a raft of activities tailored to suit the country fan.
Back story: Created in 1972 as Fan Fair, an attempt to provide fans with an alternative to the annual radio industry-only convention, the original event brought 5,000 fans out to take in exhibits, autograph signings, and live entertainment. The event was renamed CMA Music Festival in 2003, then shortened to CMA Fest in 2017. Today the festival entertains nearly 90,000 fans daily and is the city's largest economic-generating event.
What to do: There are nightly concerts galore as 350-plus artists and more than 1,100 musicians play on 11 stages (seven of which are free to the public), meet-and-greet sessions, autograph signings, fan club meetings, games, and exhibits. If you can't make it this year, check out ABC's three-hour television special that airs later in the summer. CMA Fest is the only music festival to achieve that kind of network coverage. cmafest.com
Nebraskaland Days
North Platte, Nebraska
June 13 – 23
The basics: A celebration of the state of Nebraska, with carnival rides and games, a rodeo, and concerts.
Back story: What was started 54 years ago by the Nebraska Game and Parks Commission as a way to promote the state of Nebraska has given way to Nebraskaland Days Inc., a nonprofit that puts on the state's largest festival each year. Located across the road from Buffalo Bill Ranch State Historical Park, the Nebraskaland grounds are actually part of what was once Buffalo Bill's cattle ranch — his Victorian house and barn are still standing.
What to do: With more than 125 events packed into the 10-day celebration, there's something to do at any time of the day. Four nights of PRCA rodeo, a big parade, and back-to-back nights of country music — this year Florida Georgia Line, Brett Young, and the Charlie Daniels Band are on the lineup. Hungry? No problem. You're in beef country. The local Cattlemen's Association Prime Rib Feed is one of the most popular. nebraskalanddays.com
Wild Bill Days
Deadwood, South Dakota
June 15 – 16
The basics: The fabled town of Deadwood starts its summer season each year by saluting its historic past with two fun-filled days of entertainment, history, and family-friendly events.
Back story: Originally known as Charlie Utter Days and then briefly West Fest, in the early 2000s it became Wild Bill Days and for the past 10 years has taken place on Father's Day weekend. In 2017 crowds topped 10,000.
What to do: Reenactments and gold panning, sluicing lessons by Black Hills pros, and free concerts by top country music acts make this a one-of-a-kind experience. Check out Wild Bill and Calamity Jane's graves at Mount Moriah Cemetery. wildbilldays.com
The World's Oldest Rodeo
Prescott, Arizona
June 28 – July 4
The basics: One of the top rodeos in the country includes bareback, saddle bronc, bull riding, steer wrestling, tie-down and team roping, and barrel racing.
Back story: What began in 1888 over the July Fourth weekend as a "cowboy contest," a way for local cowboys and ranchers to show off their skills, has grown into an economic force for the area, drawing nearly 30,000 spectators each year.
What to do: Besides watching the dirt fly in the arena each day, check out the local arts and crafts fair at the Courthouse Plaza, and scoot your boots across the dance floor — there are three nighttime dances during the week. worldsoldestrodeo.com
Laramie Jubilee Days
Laramie, Wyoming
July 7 – 15
The basics: Inspired equally by the Old West and modern-day culture, this annual celebration of Wyoming statehood provides a mix of history, sports, music, food, and fun.
Back story: It started on July 10, 1940, as Wyoming State Day to celebrate the state's 50th anniversary of joining the Union; the following year the event became a three-day affair known as Laramie Jubilee Days.
What to do: PRCA rodeos, a reenactment of the 1868 Bucket of Blood Shootout, free street dances each night in front of Buckhorn Bar, kids' rodeo, and free Overland Stage rides. Foodies, prepare for Friday's free pancake breakfast at the historic railroad depot, Saturday's chili cook-off, and the barbecue beef sandwiches served by the Albany County Cattle Women. laramiejubileedays.net
Chief Joseph Days Rodeo
Joseph, Oregon
July 24 – 29
The basics: For the small rodeo experience, this is one of the best — and to make it doubly special, the Nez Perce hold their Nez Perce Friendship Feast adjacent to the rodeo arena.
Back story: Stock contractor Harley Tucker began his little ranch rodeo in 1946 on the East Moraine of Wallowa Lake with a few head of stock. Little did he know it would grow to become Wallowa County's biggest event some 70 years later and swell the tiny population of Joseph to 10 times its size during rodeo week.
What to do: Check out the Bucking Horse Stampede down Main Street and Tuckerettes, the high-energy precision-riding cowgirls. Don't miss Saturday's Grand Parade, music and dancing at the Thunder Room, and the Nez Perce Friendship Feast replete with salmon and buffalo and dancing. chiefjosephdays.com
Red Ants Pants Music Festival
White Sulphur Springs, Montana
July 26 – July 29
The basics: It's a music festival that benefits the nonprofit Red Ants Pants Foundation, which provides grants to projects that support women's leadership and rural agricultural communities.
Back story: In its eighth year, Red Ants Pants Music Festival emphasizes both great music and community — last year, Lucinda Williams, James McMurtry, and the Bellamy Brothers headlined.
What to do: Camp, dance in the dust, and hop on one of the complimentary hayrides that shuttle people around. Check out some of the demos that show off agricultural skills, such as ranch roping, backing up a trailer, mule packing 101, and basic chain saw mastery, because you just never know. redantspantsmusicfestival.com
Dodge City Days
Dodge City, Kansas
July 26 – August 5
The basics: It's a massive, activity-packed festival that's as much for the community as it is for tourists, many of whom flock here because of the tie-in to the long-running television series Gunsmoke.
Back story: Dodge City Days was actually two separate festivals — Boot Hill Festival and Dodge City Roundup — until they merged in the 1960s. Now in its 58th year, it draws more than 100,000 people annually.
What to do: There are events aplenty: car shows, mechanical bull rides, outdoor movies at night, The National Beef Smokin' Saddles BBQ Contest, seven days of the Roundup Rodeo, a longhorn cattle drive down Wyatt Earp Boulevard, and a kickoff concert — last year's headliners were Blackhawk and Phil Vassar. facebook.com/dodgecitydays
Squamish Days Loggers Sports Festival
Squamish, British Columbia
August 2 – 6
The basics: A plaid-filled celebration of all things lumberjack and logging.
Back story: In 1957, Squamish Days was a simple affair, aimed at celebrating the area's chief industry by holding a friendly competition. Now it's grown into something much more — an opportunity to see top loggers demonstrate strength and skills over five event-packed days.
What to do: Activities range from a pancake breakfast and chili cook-off to crazy bed races, a chain-saw chair-carving contest, and the much-anticipated "Loggers Sports" competitions. Cheer on your favorite loggers in the birling competition — that's when people compete against each other by standing and rolling their feet on logs in a pond. squamishdays.ca
Santa Fe Summer Indian Market
Santa Fe
August 18 – 19
The basics: Learn about contemporary Indian arts and meet Native artists at the grandpappy of all Indian markets.
Back story: Southwestern Association for Indian Arts formed in 1922 to promote Native arts and artists. That summer, a humble market with about a dozen artists was held on the Plaza. The market is now the biggest juried Native art show in the world, filling the Plaza.
What to do: Chat with artisans representing more than 200 tribes as you shop. Watch for colorful dancers throughout the Plaza. And don't miss the haute couture fashion show. On Canyon Road, the galleries remain open for their 4th Friday Art Walk. swaia.org
See also: Gallup Native Arts Market in Gallup, New Mexico.
Western Legends Roundup
Kanab, Utah
August 23 – 25
The basics: This three-day festival takes you back to where the western films and television series of decades past were filmed. If you're lucky, you may just meet one of your childhood heroes.
Back story: Organized to remember Kanab's Western heritage through film, music, and poetry in 1999, the event's focus quickly turned from cowboy poetry to the town's reputation as Little Hollywood, where more than 200 feature films and TV series were filmed, including classics such as Gunsmoke, Wagon Train, and How the West Was Won. Today, the lure of old-time westerns draws visitors from as far away as Australia.
What to do: Tour old movie sets, meet and greet western stars, take a horse-drawn wagon train ride, and check out a mountain man camp. This year, don't miss the panel discussions with Gunsmoke actors. Wondering about the grub? There's a Kansas City Barbeque Society-sanctioned competition, plus a street fair with offerings from local eateries. And don't forget you're just a short drive from national parks including the Grand Canyon. westernlegendsroundup.com
Old West Festival
Williamsburg, Ohio
Saturdays and Sundays in September and October
The basics: Step back into the dusty streets of the 19th-century West via "Dodge City," modeled after the real Dodge City, with activities for the entire family.
Back story: The 11-year-old festival aims to be a fun, interactive history lesson for visitors of all ages, teaching about the importance of trains as a way to connect the West to the rest of the country, the Pony Express, and blacksmithing. There are also gunfight reenactments — naturally — at high noon each day.
What to do: Hop into a covered wagon for a spin around the town, pan for gold, be sworn in as a deputy for a day, or simply find your favorite bar stool at the saloon and dig into a bowl of rattlesnake chili at the Beatty & Kelly Restaurant. oldwestfestival.com
Jackson Hole Fall Arts Festival
Jackson, Wyoming
September 5 – 16
The basics: Art, music, cuisine, and wine take center stage at this 50-event festival as the aspens turn golden in the Rocky Mountains retreat.
Back story: In an attempt to extend the tourist season, art galleries and the business community held a weekend event in 1984 featuring Billy Schenck as the poster artist. Thirty-three years later, the event has evolved into a 12-day festival.
What to do: Options include gallery walks, historic ranch tours, the Western Design Conference exhibit and sale, and the Jackson Hole Showcase of Homes. Don't miss the National Museum of Wildlife Art's Western Visions show and sale. jacksonholechamber.com
National Cowboy Symposium & Celebration
Lubbock, Texas
September 7 – 9
The basics: A chuck wagon cook-off, horse parade, Native American activities, horse-handling demonstrations, historical sessions, Western art exhibits, and other events draw crowds in the thousands. More than just an event, NCSC is a 501(c)(3) nonprofit organization dedicated to preserving Western heritage and cowboy culture.
Back story: In 1989, cowboy poet Alvin Davis gathered top-name writers, cowboy poets, rodeo cowboys, ranch managers, working cowboys, cowgirls, Western musicians and actors, and others — 3,000 in all — to celebrate, preserve, and pass along their Western heritage and cowboy culture.
What to do: In addition to the activities above, there's a special opportunity for the next generation of cowboys and cowgirls. Each year more than 600 students attend Wild West Youth Day during the symposium, where they learn about the culture and history of the West. cowboy.org
Norsk Hostfest
Minot, North Dakota
September 26 – 29
The basics: Honor the culture of Scandinavia — Denmark, Finland, Iceland, Norway, and Sweden — through music, authentic cuisine, and, of course, Viking battles.
Back story: A nonprofit that aims to celebrate and preserve all things Scandinavian, the festival was started in 1978 by Chester Reiten and a few friends who wanted to celebrate their Nordic heritage. Forty years later, it's the largest Scandinavian festival in North America, drawing tens of thousands of people each year.
What to do: Learn about the different Scandinavian cultures as you sample traditional food, music, and dance, and shop authentic merchandise, from Swedish clogs and Dale of Norway sweaters to stoneware pottery and Nordic art. Take a walk back in time at Viking Village, and don't miss the daily cooking classes specializing in Nordic cuisine. hostfest.com
Trailing of the Sheep Festival
Sun Valley/Ketchum/Hailey, Idaho
October 10 – 14
The basics: A celebration of what was once a vibrant industry of the Wood River Valley's most vibrant industry — sheep ranching and herding.
Back story: What began 22 years ago as a way to celebrate the annual migration of sheep south has evolved into what msn.com has called one of the top fall festivals in the world, which culminates each year with the Big Sheep Parade — the moving of the area's 1,500 sheep through Main Street in Ketchum.
What to do: Don't miss border collies showing off their smarts in the Championship Sheepdog Trials — it's so much better than a YouTube video. There's also bagpipe music, Peruvian dancing, a Folklife Fair with sheep shearing, spinning, and weaving demonstrations, and culinary activities where top chefs and local restaurants show off their culinary skills. trailingofthesheep.org
Red Steagall Cowboy Gathering & Western Swing Festival
Fort Worth, Texas
October 26 – 28
The basics: A generous helping of music, cowboy poetry, and Western fun.
Back story: The Fort Worth Stockyards hosted Red Steagall's first gathering in 1991 to fund scholarships and preserve his Western lifestyle. Today, it ranks as one of the nation's premier heritage events.
What to do: There are poetry and fiddle contests, Western swing dances, a cattle dog challenge, chuck wagon cook-offs, ranch rodeo events, a trappings show, and plenty of poetry and music performances. redsteagallcowboygathering.com
See also: The Best Little Cowboy Gathering in Texas in La Grange, Texas, and the San Angelo Cowboy Gathering, in San Angelo, Texas.
The Farmstead Corn Maze & Pumpkin Festival
Meridian, Idaho
2018 dates TO BE ANNOUNCED
The basics: At this autumn carnival of farm-themed events, the most notable is the 18-acre corn maze with a theme that changes every year.
Back story: What is now known as The Farmstead was originally founded in 1997, by Salmon, Idaho, native Brett Herbst. It changed hands twice — Jim and Hillary Lowe now oversee it as part of an incorporated corn maze agribusiness.
What to do: It's a theme park for farm-related fun — there are pig races, hayrides, apple blasters, a cow train, pick-your-own pumpkin patch, and, at sundown, a marshmallow roast — what s'mores could you want? farmsteadfestival.com
---
From the February/March 2018 issue. Available now on newsstands (or click here to order the magazine).