Winners of the awards honoring independent film and media will be announced Nov. 27.
The C&I crew wants to offer hearty congratulations to Lily Gladstone, Chaske Spencer and the creators of the Prime Video series The English for receiving Gotham Award nominations.
The Gothams, as the accolades are known, are bestowed each year by the Gotham Film & Media Institute to honor outstanding achievements in independent film and media. This year's awards ceremony will take place Nov. 27 at Cipriani Wall Street in New York City.
---
---
Gladstone, currently appearing on movie screens worldwide as a star of Martin Scorsese's epic Killers of the Flower Moon, is nominated in the Outstanding Lead Performance category for her acclaimed portrayal of Tana, an Oglala Lakota woman who reconnects with her roots while driving cross-country, in director Morrisa Maltz's The Unknown Country.
---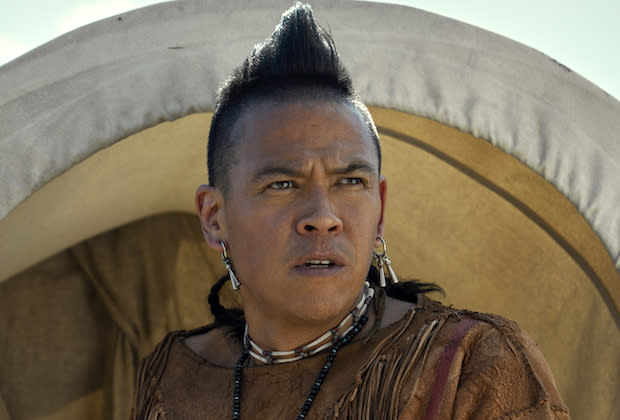 Chaske Spencer in The English
---
Spencer, a 2022 Independent Spirit Award nominee for his work opposite Michael Greyeyes in Lyle Mitchell Corbine Jr.'s Wild Indian, is a 2023 Gotham contender in the Outstanding  Performance in a New Series category for The English. In the limited-run drama, which is nominated in the Breakthrough Series category, the Lakota Sioux actor plays Eli Whip, a Pawnee ex-cavalry scout who joins aristocratic Englishwoman Lady Cornelia Locke (Emily Blunt of Oppenheimer and A Quiet Place) on a vengeance trail through the Wild West of 1890.
---
---