The architecture at the posh green o getaway in Montana melds with nature and invites the outside in.
You'd be forgiven if you woke up at the green o and momentarily thought you were outdoors. That's by design.
Co-owner Laurence Lipson planned the posh new adults-only section of the Resort at Paws Up in western Montana to blend with the swaying pines that surround it. And because of the way the buildings are tucked into the terrain, you're more likely to glimpse an elk out your window than another human being.
"You're smack-dab in an environment, and wherever you are in the accommodation, you feel that environment around you," Lipson says.
Paws Up opened 2005 with three tents and 18 homes. Larger and larger families began to discover it, and the size of the tents and homes at the resort grew. But Paws Up offered few options for couples. It needed a corner that catered to people looking for a romantic hideaway.
The result is the green o—a dozen contemporary guest homes that look nothing like the traditional timber structures and upscale canvas tents on the rest of the 37,000-acre Paws Up Ranch. It opened in 2021.
"We knew these weren't going to be tents, but we still wanted them to be experiential," Lipson says. "We wanted to do things that nobody has seen before."
Lipson's late father, Dave Lipson, co-founder of Paws Up, sketched out some early design concepts. After he died in 2019, Lipson teamed up with artist Pieter De Liagre Bohl, who had created sculptures for the resort. They wanted to create a place that would stand out to world travelers but make nature the focal point.
They came up with four types of unique structures: a two-story Tree Haus that perches 23 feet above the ground, a Green Haus with more windows than solid walls, a voluptuously curvy Round Haus, and the sunlit Light Haus. Despite their differences, the buildings have a lot in common, including their sleek style, wide-plank wood floors, fireplaces, hot tubs, and abundance of windows.
"The number one component of the designs was to bring the outdoors in," Lipson says. "That meant a lot of glass. The glazing expense for green o was the most expensive line item."
1/3
The two-story Tree Hauses, with a bedroom stacked above the living room and kitchen, peer out among the treetops, a leafy, oasis with a fireplace on both floors. "You're up in the canopy of pine trees and can see bird nests. When it snows, the snow all blows at the same level you're at, so you really feel the trees swaying," Lipson says.
From above, the Round Hauses look like an infinity symbol, with curved walls wrapped in glass and a nearly 360-degree view of the forest.
The Green Hauses are partially embedded into the hillside, with a studio-style open interior and a glass skylight above the bed. This fall, crews transformed them into real greenhouses by planting moss and grass on their angled shed roofs. "I had this crazy dream that you'd be in the Green Haus and any direction you look—front, back, side to side, or straight up—you'd see nature. I came close, but everyone fought me that we needed to have a closet for guests," Lipson says. "We got four out of five."
1/3
The Light Haus reaches for the skies with cathedral ceilings and sweeping floor-to-ceiling windows at each end.
Many of the structures at the green o are clad in Japanese burnt wood, or shou sugi ban, created by artists who use a torch to hand-burn pieces of wood. The effect mimics natural burns on trees here that were hit by lightning. "I love the way it looks," Lipson says. "It's not just for the aesthetics of it; it's also about sustainability. Because of the burn on it, the wood repels any type of bug—beetles, termites—and water."
Floors and tongue-and-groove ceilings are made with reclaimed wood from old barns, abandoned cabins, and worn-out factories. Cart paths are "paved" with recycled asphalt millings from old roadbeds for a quieter, less dusty alternative to pea gravel.
1/3
Each of the 12 homes—four Tree Hauses, four Green Hauses, three Round Hauses, and one Light Haus—are nestled among trees and tucked behind hillsides to add to their intimacy. The Social Haus, where meals are served and guests check in, is a low-key hub of activity at the center.
"It was important for us to be light on the land," Lipson says.
Even the artwork reflects the natural surroundings. Some of the homes feature walls covered with irregularly shaped strips of wood. Bas relief paintings of trees by Colorado artist Bonnie Wakeman, with shimmering metallic silver leaves, adorn others.
Spending a few nights at the green o feels a little like relaxing in an elegant, climate-controlled version of the outdoors. Think of it as Ma Nature's penthouse — only without the mosquitos.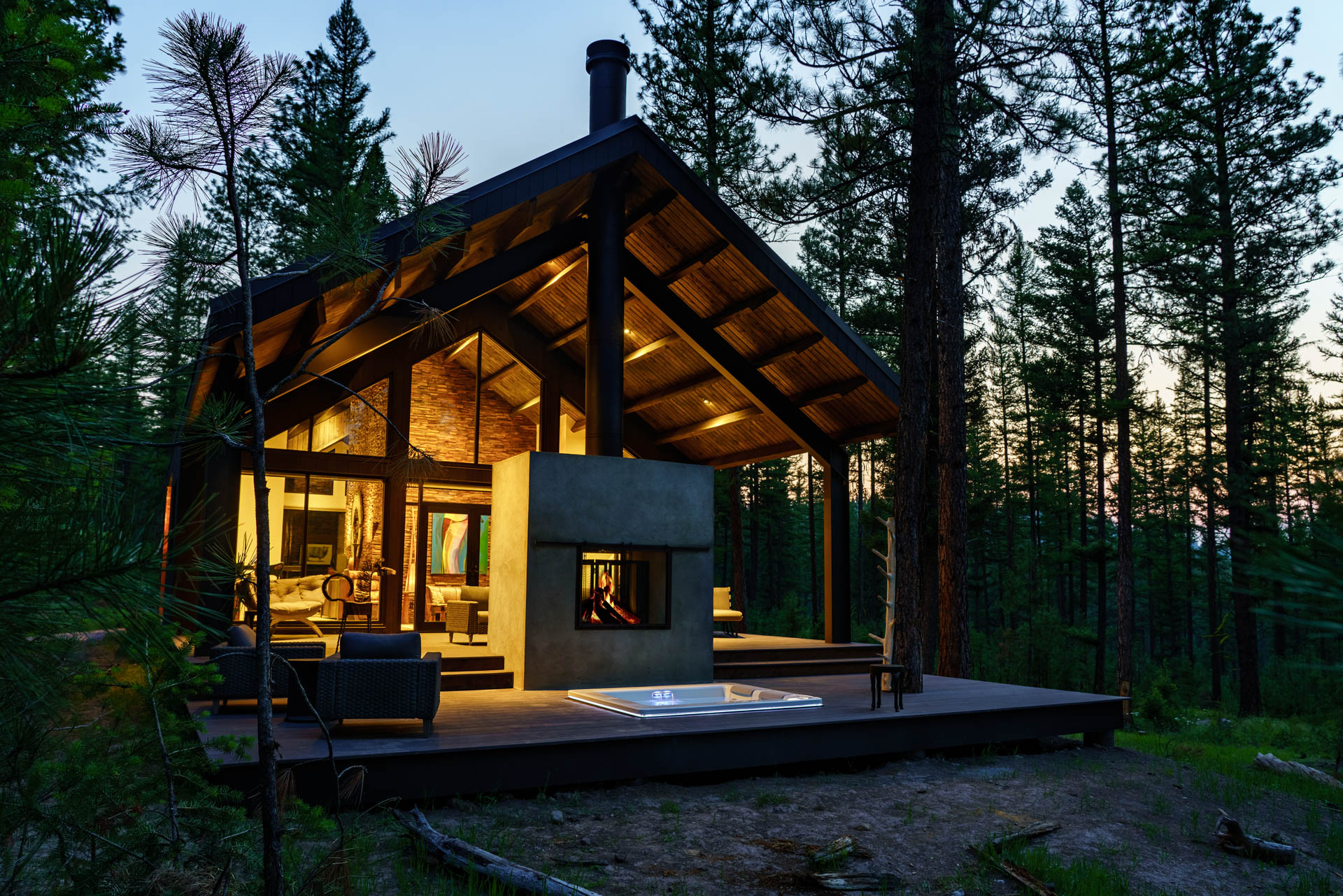 ---
For more information, visit thegreeno.com.