Public relations rock star Treasure Maddox, and fiance Kyle Hannah, share their dream Christmas Eve and hook up the ladies with some incredible gifts.
Public relations and Western influencer Treasure Maddox is no stranger to hard work. But she also knows that treating yourself is necessary to maintaining a healthy balance. She lets us in on some of her favorite spoils that will make any woman feel loved.
It wouldn't be the holidays without … my family, friends, warm cuddles by the fireplace, and champagne celebrations.
Favorite Christmas present I've ever gotten … One of my favorite Christmas presents I've ever received is a gold and diamond Cartier Love Bracelet that I have never taken off and never plan to, just a reminder of how very loved I am and how special family is.
Best gift I've ever given … One of the best gifts I have ever given is a custom gold and diamond cuff with my late father, Keith Maddox's brand "+x," which represents Positive Times to my mom, following his passing.
Most wonderful Christmas memory … My most wonderful Christmas memory is Christmas 2018, which was the last holiday we spent as a family of four, prior to the loss of my father.
For our holiday meal, I especially look forward to … For our holiday meal, I especially look forward to the traditional turkey dinner my mom, Susan Maddox always cooks to perfection with wine pairings and a selection of homemade cookies, of course!
My family's most cherished holiday traditions are … My family's most cherished holiday tradition is the minute after we finish our Thanksgiving meal, we kickstart the Christmas season by watching our favorite movies – Christmas Vacation, The Family Stone, Elf, and Four Christmases.
The first song I put on my holiday playlist is … "You Make It Feel Like Christmas" by Gwen Stefani & Blake Shelton
Best place to spend the holidays … The best place to spend the holidays is anywhere with my loved ones, but our lake house is one of my favorites, waking up to the glass of the lake, winter skies, and fireplace is just beautiful and serene.  
Good organization for giving back … I love serving my community, and it is always heartwarming to help during the holiday season at a local soup kitchen, giving back to those who need it most.
My greatest wish for the new year ahead is … My greatest wish for the year ahead is health, love, and happiness, especially as I embark on the beautiful journey of marriage in March 2023.
---
For The Lovely Lady
Whether you're a lady looking to treat yourself or a husband looking to make your lady extra jolly this holiday season, Treasure Maddox has some dazzling selections that are bound to get your creative juices flowing. Just check out these beautiful Western gifts for her.
---
1/9
Bottega Veneta "Pouch" ($3,400), bottegaveneta.com; Escape to Nobu Hotel Los Cabos (price varies), loscabos.nobuhotels.com; 40X Evergreen felt hat ($620), besthatstore.com; Gael (R) leather trench coat with belt ($1,750), mackage.com; Saddle Tramp Jacket (contact for pricing), doubledranch.com; 18k white gold diamond horseshoe bracelet ($17,350), readsjewelry.com; Terry cloth slides ($950), prada.com; Midnight blue suede boots with 17-inch upper ($400), rwatsonboots.com; Jaquard bomber jacket ($499), pendleton-usa.com
1/6
Mixed material jacket ($399), wrangler.com; Bed Stu bag ($325), lyoutfitters.com; Sterling silver opal earrings ($395), ferrisjewelry.com; Mediterranean coral cuff by Matthew Charley (Navajo) ($3,000), coloradojo.com; Lidia Vesuvio boots ($670), oldgringoboots.com; Turquoise horsehair bracelet ($100), cowboy-collectibles.com; Gypsy Soul shearling coat ($3,800), montanadreamwear.com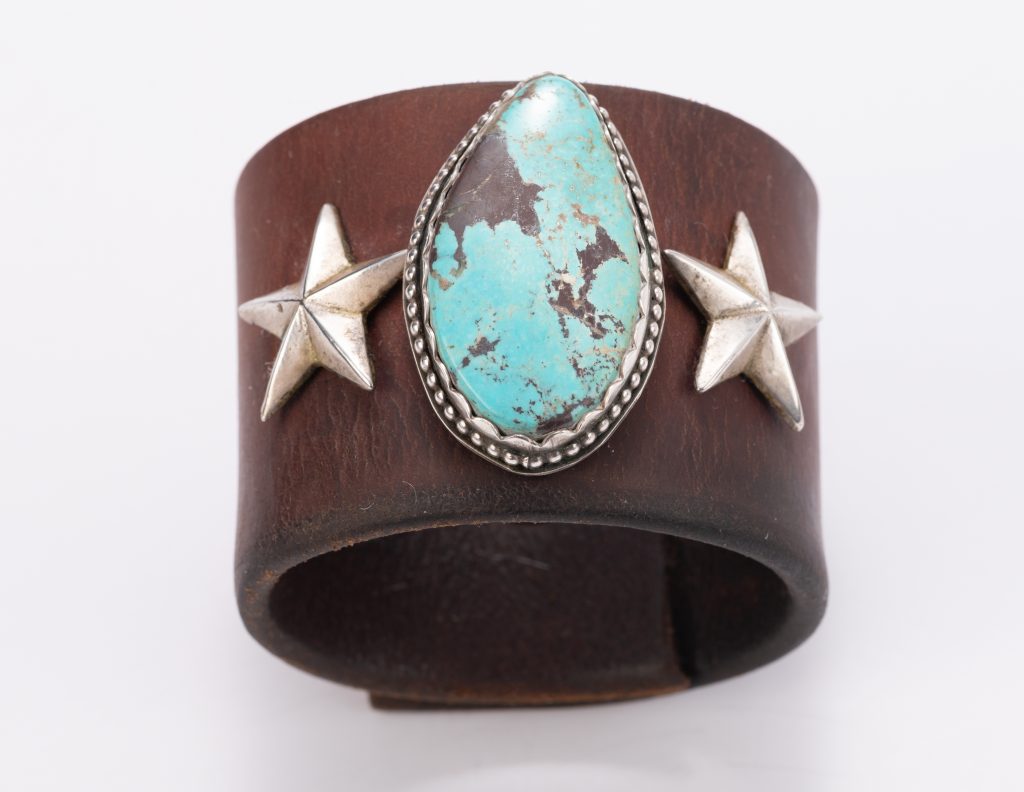 1/5
Turquoise cactus with coral and black onyx pendant by Regina Smart (Choctaw), cowboyjewelers.com; Bracelet with sky blue natural Bisbee turquoise, antique sterling silver stars set on old saddle cinch strap ($815), kirpachbrayclets.com; Silver cuff with turquoise ($375), tworeddogs.com; Custom felt hat ($300), dumb-blonde-creations.mysnopity.com; Paisley boho fringe bag ($389), weatheredsouljewelry.com
1/7
Hippie hat in buckskin with four-inch flat brim, green velvet band, and leather feather ($180), charlie1horsehats.com; Branded Arrow crossbody bag, three-sided fringe ($295), wildlacebeadwork.com; Distressed leather boots with glitter inlay, embroidery, and studs ($278), corralboots.com; Two-pocket hair-on handbag ($165), maverickwesternwear.com; Boot-stitch handmade leather backpack ($389), espueladesignco.com; Lucky Boy equine medal cuff with Royston turquoise ($5,450), jillgarber.com; Official Cowboys & Indians Teton bracelet with freshwater pearls ($89.95), pearlsbyshari.com
1/2
Mini Many Styles necklace ($995), rockigorman.com; Green Sonoran gold turquoise squash blossom necklace and earrings ($6,480), silverpearlranch.com
1/3
Sunset moth butterfly wing earrings in American turquoise ($186), prairieskyjewelryco.com; Flower bead turquoise chip necklace ($288), lauraingallsdesigns.com; White opal pearls and Naja pendant ($1,400), sylviamjewelry.com
1/4
Concealed carry cross-body purse ($375), mjleatherdesigns.com; Kraff's long coat in scarlet la paz pattern ($500), kraffs.com; Black Indian Dreams poncho ($139.95), rhondastark.com; Sterling silver and spiny oyster cluster cuff by Anthony Skeets (Navajo) ($1,300), callicosilver.com
---
Want a spread of your own? Order our November/December issue now.