Where to eat, drink, and stay in this magical mountain mecca? Our Santa Fe insider steers you to the classic, the cool, the new, and the unique.
It's a great time to be in Santa Fe as the City Different celebrates 100 years of Indian Market. Here are just a few of our favorite things about this magical place at this magical time that make it the only place we want to be.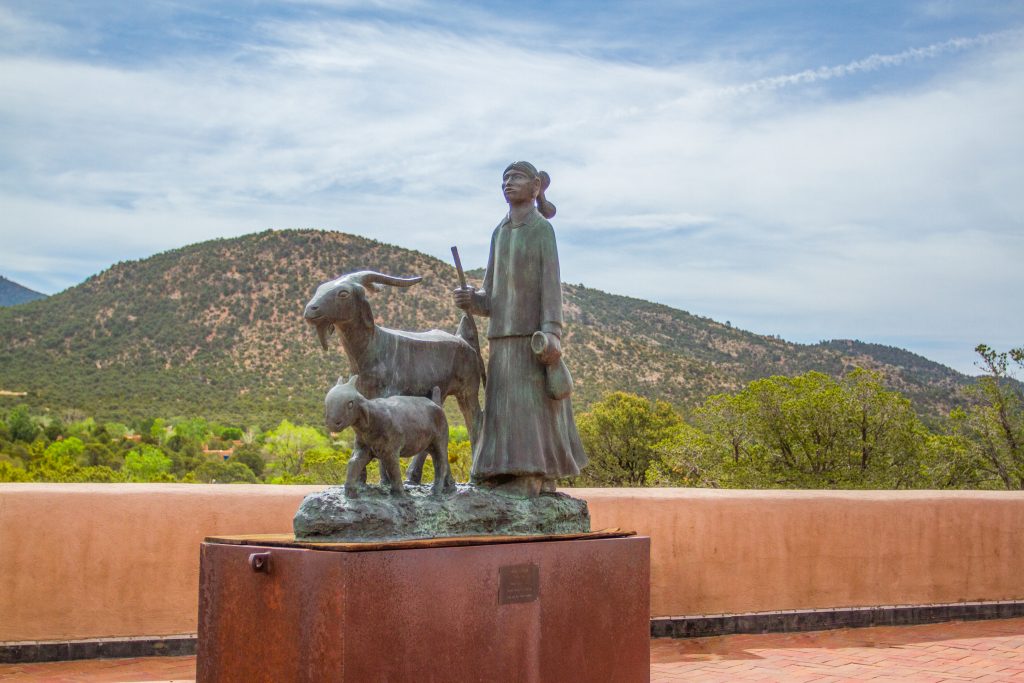 Native American artwork on Museum Hill
---
ART, ART, AND MORE ART!
Santa Fe in August is all about Indian Market. This year, Market is August 20 – 21, with lots of events swirling around those dates. Southwestern Association of Indian Arts Best of Show Ceremony and Luncheon is on August 19, the SWAIA 100th Anniversary Gala on August 20, and SWAIA Indigenous Fashion Show on August 21. Make time for the exhibition Honoring Tradition and Innovation: 100 Years of Santa Fe's Indian Market 1922 – 2022, which runs August 7, 2022 through August 31, 2023 at the New Mexico History Museum.
Any time in Santa Fe is art-intensive, but during Indian Market, everything amps up. The gallery-oriented satellite art fair Art Indigenous Santa Fe, modeled after Art Basel, takes place at El Museo de Cultural on August 18 – 21. Participating galleries include Blue Rain Gallery, Chiaroscuro Contemporary Art, and L.A.'s Trotta-Bono Contemporary.
Blue Rain Gallery mounts a Native American Group Exhibition on August 18 – 22 with a reception on August 18 from 5 to 8 p.m. A solo show for Preston Singletary follows August 19 – September 3, with a reception on August 19 from 5 to 8 p.m.
Mesa Verde by Al Qoyawayma; Photography: Al Qoyawayma / Courtesy Blue Rain Gallery
Manitou Gallery holds three shows: Palace Jewelers, its annual Native jewelry trunk show on August 18 – 19 from 5 to 8 p.m.; JD Challenger in person on August 18 from 5 to 8 p.m.; and Oreland Joe on August 19 from 5 to 8 p.m.
Eagle Feathers by Oreland Joe; Utah alabaster; 27'' x 11'' x 8''
Sorrel Sky Gallery features Ray Tracey, Ben Nighthorse Campbell, and Kevin Red Star on August 19, reception from 5 to 7:30 p.m., and continuing through August 21.
Venture Into Color by BJ Briner; displayed at Sorrel Sky Gallery
King Galleries presents Legacies, a group show of Native artists including Tammy Garcia and Autumn Borts-Medlock on August 19, 3 to 5 p.m.
Bread Bakers by Susan Folwell; Photography: Courtesy of Susan Folwell and King Galleries
Chiaroscuro Contemporary Art holds an Indian Market group exhibition and solo show for Emmi Whitehorse.
Crown Stems by Emmi Whitehorse; oil and chalk on paper mounted canvas; 36" x 51"; Photography: Courtesy of Chiaroscuro and Emmi Whitehorse
And then there's Canyon Road, with more galleries and immersive art experiences than you can count.
Outdoor statues along Canyon Road
---
PRIMO ACCOMMODATIONS
Four Seasons Resort Rancho Encantado does everything right. Horse sculptures throughout the 57-acre property, which is situated 10 miles north of town. Contemporary paintings. Lavish casitas with private patios spread out amidst the pinyon pines, birds tweeting softly. Wood-burning fireplaces. Mountain views for miles from the Terra dining terrace. At the bar, espresso martinis. And the spa! It's fully indoor-outdoor, serene, and immaculate. You can make a day of a couple of treatments and lunch. Book yourself into a private spa courtyard and drift between your own sauna, hot tub, and chaise lounge under placid blue New Mexico skies, sipping cucumber water and snacking on nuts.
1/4
If you'd rather rev up than kick back, there's also Rancho Encantado's new Rio en Medio hike amid oak trees, Pacheco Canyon downhill bike ride zipping past wildflowers, and Boots & Bubbles excursion to luxury boot boutique Back at the Ranch then wine tasting at Gruet Winery.
Just four miles north of town is Bishop's Lodge, an Auberge Resorts Collection property nestled at the base of the Sangre de Cristo Mountains. Newly reopened after an extensive and loving renovation, the historic property borders the Santa Fe National Forest and sits on the same spot where Santa Fe's first archbishop built a chapel and a lodge more than 150 years ago.
The top-to-bottom transformation has gotten really high marks: Bishop's Lodge was recently recognized as the No. 1 Best Resort Hotel in the West on Travel + Leisure's 2022 World's Best Awards list; the accolade comes on the heels of another prestigious award for the property, which was recently honored on Robb Report's Best of the Best list.
The adobe lodge's accommodations feature soft textures, gentle and earthy colors, and traditional art and textiles —all the rooms have Navajo rugs and individual patios.
At SkyFire, Bishop's Lodge's signature restaurant, it's all about that transformative element aromatically cooking your order on wood-fired grills. On the informal terrace, wooden tables and pinyon logs crackle in the kiva fireplace, inviting you to relax and stay awhile in this laidback, grounding setting. It's a great spot for craft cocktails like the Holy Margarita with hatch chile, house-made apricot purée, lime, and sal de gusano.
The food promises "a narrative of nourishment," authored by seasoned executive chef Pablo Peñalosa Najera, who draws inspiration from his native Mexico City and his adopted home of Santa Fe for vibrant dishes that come with a modern twist. His adobo honors his grandma's recipe, which he has made his own by using different chiles and garlic. Have that, the Aguachile Hamachi, or the giant 31-ounce "Mesa Tomahawk" bison chop and you'll taste modern and heritage in the same delicious mouthful.
---
EXTRAORDINARY FOOD AND DRINK
If you're eating off-property, there's no lack of great places to try. Gastropub Horno was opened last year by chef-owner David Sellers (formerly of Santacafe) on downtown's Marcy Street. There's an award-winning loaded Smackdown Burger with green chile on brioche, delicate tuna tartare on risotto cake with anchovy butter, delectable miso roasted vegetables, and a creamy must-have burrata bruschetta with prosciutto, arugula, and rhubarb. Finish it off with the dense Chocolate Tahini Torte plated with scrumptious streaks of almond caramel.
VIP diners at this popular new spot have already included filmmakers Oliver Stone and Chris Eyre, George R.R. Martin, Ali MacGraw, and Wes Studi. Waitstaff bring a joie de vivre to their attentive service. The outdoor patio in front with red metal French bistro tables and shade trees seats 35. As an added bonus, it's just steps away from Indian Market.
Spirits distilled in New Mexico were just added at the perennially James Beard Award-cited Restaurant Martín, now featuring the new Rosemary 75 (gin, rosemary, lemon, cane syrup, sparkling rosé, and a sprig of fresh rosemary) and Red Chile Old Fashioned (bourbon, angostura bitters, and house-made red chile demerara syrup) cocktails along with their refined New American fare. They're growing even more of their ingredients on the property this summer, including edible nasturtiums, cilantro, and the different varieties of mint that go into the house-made chocolate mint ice cream ("People beg us to buy it to go," says co-owner Jennifer Rios). The dazzling in-demand patio seats 75.
To spice up this year's Indian Market, inventive chef-owner Joseph Wrede of Joseph's Culinary Pub says he will offer the special Ristra cocktail (Tumbleroot agave spirit, KGB Naranja orange liqueur, fresh lime, jalapeño simple syrup, and a red-chile salt rim) paired with a fried green-chile tamale with cheese and chile verde. Then there are the usuals in his farmhouse approach to elevated American cuisine, like seasoned duck-fat potato chips, lamb burger with green chile, and stacked Root Vegetable Napoleon. The patio seats 20.
Curious where cool artists like Virgil Ortiz, Sho Sho Esquiro, and Jeremy Frey go? You may run into them at The Teahouse, Rio Chama Prime Steakhouse, or Maria's New Mexican Kitchen.
---
BEST SHOPPING, BAR NONE!
This town has an embarrassment of riches when it comes to great shopping for everything from turquoise and textiles to boots and buckles. Some favorite stops include Samsville Gallery, Rocki Gorman, Malouf on the Plaza, Sunwest on the Plaza, Sorrel Sky Gallery, Maya Gallery, Suzani, Nathalie, Rocketbuster, Santa Fe Goldworks, and Barbara Meikle Fine Art.
1/6
---
Read more Indian Market insider info:
Shanan Campbell
Steve and Linda Blamer
Ben Nighthorse Campbell
Rocki Gorman
---
For more information, visit TOURISM Santa Fe at santafe.org and Southwestern Association for Indian Arts (SWAIA) at swaia.org.