Here is our list – compiled by polling readers, critics and C&I staffers – of the Top 20 Western TV Series.
Gunsmoke (1955-1975)
The longest-running western in the history of American television – and, along with Law & Order, one of the longest-running TV dramas of any sort – Gunsmoke almost immediately transformed James Arness into a home-screen superstar for his portrayal of Matt Dillon, the straight-shooting marshal of 1870s Dodge City, Kansas. But Arness wasn't the only attraction. He was backed by a colorful array of supporting players – most notably, Milburn Stone as the crusty Doc Adams; Amanda Bake as saloon owner (and implied love interest) Miss Kitty; Dennis Weaver and Ken Curtis as, respectively, deputies Chester B. Goode and Festus Haggen; and, for three seasons, Burt Reynolds as half-breed blacksmith Quint Asper. When the series finally moseyed over to TV's equivalent of Boot Hill in 1975, Los Angeles Times columnist Cecil Smith noted its cancelation with an eloquent tribute to its high quality and lasting impact: "Gunsmoke was the dramatization of the American epic legend of the west. Our own Iliad and Odyssey, created from standard elements of the dime novel and the pulp western as romanticized by Buntline, Harte, and Twain. It was ever the stuff of legend." Sounds right to us.
---
Bonanza (1959-1973)
Bonanza was must-see TV for millions during its 14-season, 430-episode run on NBC. And even now, more than 40 years after its final network telecast, there continues to be a large and faithful audience for the hour-long adventures of Ben Cartwright (Lorne Greene), the thrice-widowed owner of the massive Ponderosa ranch in Virginia City, Nevada, and his three adult sons: Adam (Pernell Roberts), Hoss (Dan Blocker) and Little Joe (Michael Landon). Actors drifted into and out of the series over the years – Roberts departed in 1965, and actually wound up spending more time as the star of Trapper John. M.D. (1979-86) – but actresses seldom stuck around very long. Indeed, it quickly became a running gag that any woman who fancied one of the Cartwright men (even in flashbacks) either changed her mind or met an untimely demise. Bonanza remained pretty much a bachelor party from start to finish.
---
Maverick (1957-1962)
Maverick stood out from the multitude of other prime-time westerns during the 1950s and '60s by taking a tongue-in-cheek approach to cowboy conventions. Rambling gamblers Bret (James Garner) and Bart Maverick (Jack Kelly) preferred dealing cards to shooting straight, relied on smooth talk more than fast draws, and resorted to gunplay only when they couldn't charm or bluff their way out of trouble. The overall tone wasn't entirely satirical -– dead-serious shootouts sporadically figured into the mix – but a few classic episodes qualify as outright parodies of relatively serious series like Bonanza and Gunsmoke. They smiled when they did that, pardner.
---
The Lone Ranger (1949-57)
Long after The Lone Ranger completed its lengthy network run, throngs of cable, Internet and home-video viewers – including many who were not yet born when over 220 first-run episodes aired on ABC – still heed the call of announcer Fred Foy: "A fiery horse with the speed of light, a cloud of dust and a hearty 'Hi-Yo Silver!' The Lone Ranger!" Clayton Moore wore the black mask and fired the silver bullets in most of the episodes. (John Hart assumed the lead role while Moore took a time-out during a wage dispute.) And Jay Silverheels rode tall throughout the entire series as Tonto, the best buddy any Wild West hero could ever hope for.
---
Have Gun, Will Travel (1957-1963)
Even more than The Lone Ranger, Paladin, the elegant but lethal gunslinger of Have Gun, With Travel, enhanced the mystery of his mythos by maintaining a dual identity worthy of a comic book hero. In San Francisco, he was a smooth-talking, spiffily-dressed dandy who often frequented the opera. But when anyone requested the services advertised on his chess knight-adorned calling card – "Have Gun. Will Travel. Wire Paladin, San Francisco." – he would don his black-on-black business attire, strap on his guns, and boldly ride out to some Wild West locale to do derring-do as bodyguard, courier and/or private detective.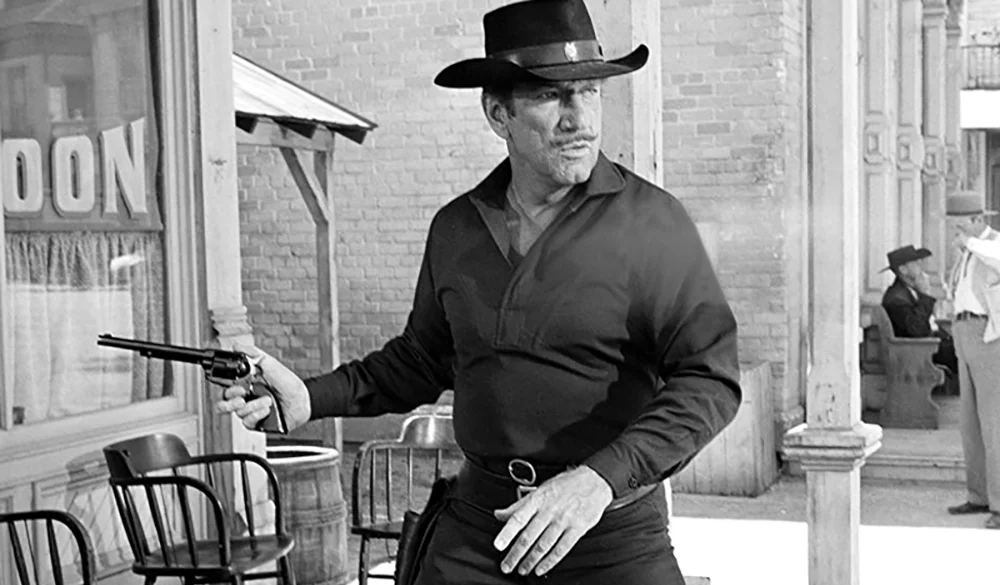 ---
Hell on Wheels (2011-2016)
It started out as an impressively gritty but undeniably formulaic revenge drama, following Confederate Army veteran Cullen Bohannon (Anson Mount) on a vengeance trail as his pursuit of the rogue Union soldiers who killed his wife and son took him to the moving-westward construction sites of the First Transcontinental Railroad. Over the course of five eventful seasons, however, Hell on Wheels evolved gradually and engrossingly into a full-scale, multifaceted, and multicultural epic quite unlike anything seen before or since on American television.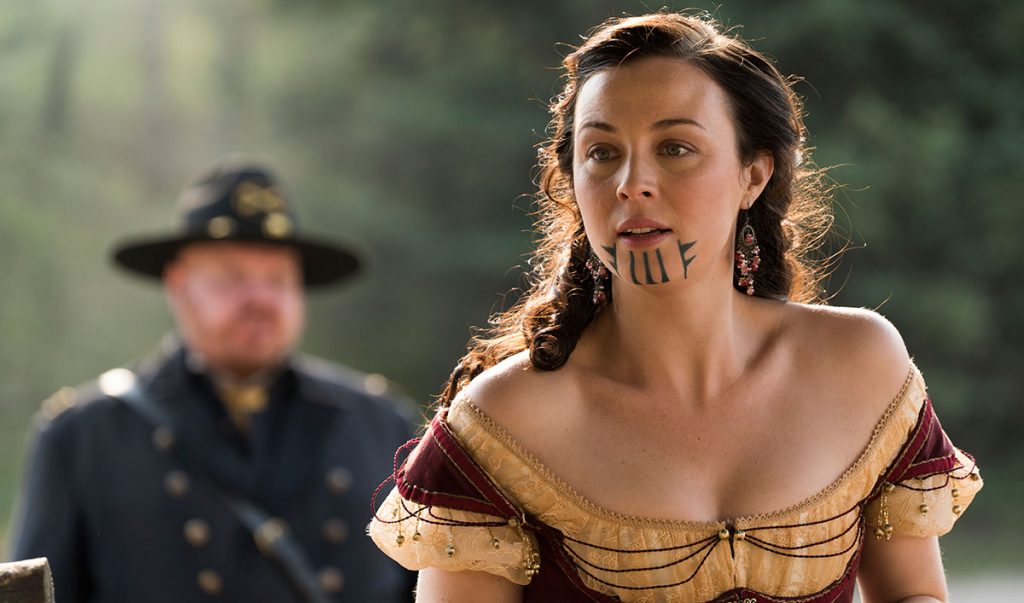 1/4
---
Wagon Train (1957-65)
Talk about the long journey westward: During 228 episodes that aired over eight seasons on two different networks, scores of guest stars (including such notables as Bette Davis, Barbara Stanwyck, Ernest Borgnine, Lee Marvin, Charles Laughton and future President Ronald Reagan) were led by grizzled wagon masters — first Ward Bond, then John McIntire —on arduous overland treks from Missouri to California. Also along for the ride: Robert Horton, Robert Fuller and Denny Miller, successively, as trail scouts; Frank McGrath as cook Charlie Wooster; and Trey Wilson as assistant wagon master Bill Hawks.
---
Yellowstone (2018-Present) 
The newest series to crack our Top 20 was described by one critic as "Bonanza Meets The Godfather" — and, truth to tell, we can't argue with that assessment.  Over the first four seasons of this highly addictive contemporary neo-western, there has been a whole mess of shifting alliances and sudden deaths, and more than one "trip to the train station," as rancher John Dutton (Kevin Costner) struggles to maintain his land and legacy with a little help from his extended family: Sons Kayce (Luke Grimes) and Jamie (Wes Bentley), daughter Beth (Kelly Reilly), and ever-helpful ranch foreman Rip Wheeler (Cole Hauer).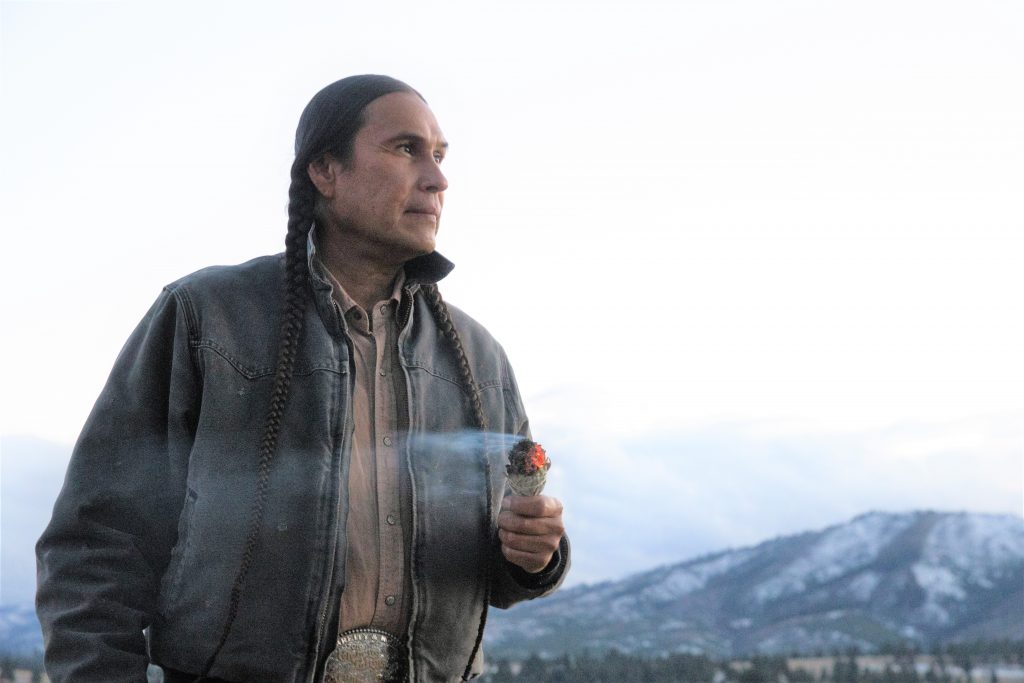 1/3
---
Rawhide (1959-66)
For 217 hour-long episodes, the rugged cowboys of Rawhide would "keep those doggies movin', though they're disapprovin'" during long cattle drives from San Antonio to Sedalia, Kansas. But as tough as things may have been out on the trail, it always seemed like series leads and guests stars alike didn't get into serious trouble until they stopped at towns – some deceptively peaceful, others dang near lawless – along the way. Clint Eastwood earned his spurs as ramrod (and, eventually, trail boss) Rowdy Yates, a role he played for the entire run of Rawhide before donning the poncho of The Man with No Name.
---
Cheyenne (1955-63)
The first hour-long western in television history, Cheyenne showcased the late, great Clint Walker in an irresistibly appealing portrayal of the title character, a broad-shouldered, good-humored cowboy who was raised by Cheyenne Indians, and dedicated himself to doing good while wandering the post-Civil War West. The series remains enormously popular after nearly seven decades, with most episodes coming off as well-cast and intelligently written "mini-westerns" that hold up much better than many shoot-'em-ups released in theaters during the same era. Of course, it also helps that Walker takes his shirt off a lot.
---
Longmire (2012-17)
Based on the novels by Craig Johnson, Longmire continues to attract an appreciative audience on home video and streaming platforms with its inspired mix of modern-day western, character-driven serial, and murder-mystery crime drama. At the center of it all: Walt Longmire (authoritatively played by Robert Taylor), the veteran sheriff of Wyoming's fictional Absaroka County, who does his best to keep the peace while tending to emotional wounds with occasional help from longtime friend Henry Standing Bear (the charismatic Lou Diamond Phillips), owner-operator of the Red Pony, a saloon-restaurant where Henry always hopes that everyone will have a beautiful day.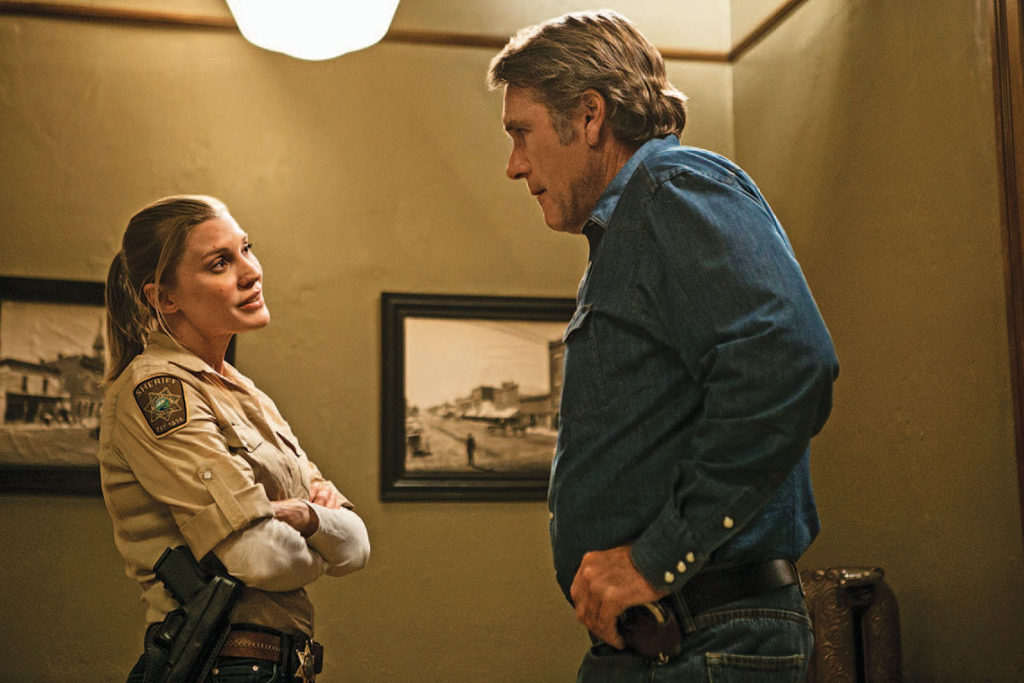 1/3
---
Wanted: Dead or Alive (1958-1961)
Steve McQueen ignited his superstardom as Wild West bounty hunter Josh Randall, the first role that allowed him to showcase the charismatic qualities that would eventually earn him the nickname "The King of Cool." (During the three-season run of Wanted: Dead or Alive, he broadened his appeal by landing a starring role in the 1960 movie The Magnificent Seven). Formidably armed with his trademark weapon of choice, a Model 1982 Winchester carbine affectionately referenced as his "Mare's Leg," Randall usually worked alone – except for a few 1960 episodes when he was joined by former deputy sheriff Jason Nichols (Wright King) – and often preferred to capture rather than kill his quarry. But when shooting was necessary, he didn't aim to please.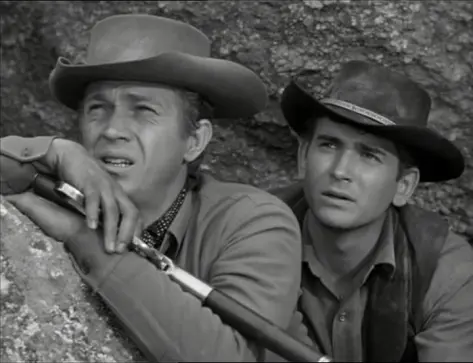 ---
The Rifleman (1958-63)
Widowed Civil War veteran Lucas McCain (Chuck Connors) wanted little more than to live a quiet life with his young son, Mark (Johnny Crawford), while working his ranch just outside of North Folk in the New Mexico Territory. Unfortunately, bad people just kept making their way to North Fork. And, even more unfortunately, the local marshal (Paul Fix) simply wasn't up to the task of dealing with the undesirables on his own. So it frequently fell to Lucas to provide back-up as the title character in The Rifleman, an extremely popular half-hour western that endeavored to extol traditional family values while offering up heaping helpings of Wild West action.
---
The Virginian (1962-71)
For nine memorable seasons — including the final one, during which the series was retitled The Men from Shiloh — The Virginian provided weekly movie-length western dramas (90 minutes each, including commercials) set in and around the sprawling Shiloh Ranch in late 19th-century Medicine Bow, Wyoming. There were several cast changes over the run of the show, but the two constants were James Drury as the title character, the tough but fair-minded Shiloh foreman, and Doug McClure as Trampas, a rowdy cowboy who often provided comic relief. And talk about your guest stars! "We had the best actors and actresses in Hollywood come and work on our show," Drury told C&I in 2016. "We had Bette Davis and Joan Crawford and George C. Scott and Colleen Dewhurst and Ralph Bellamy — and the list goes on and on… [I]t was a very wonderful place to be as an actor, because you were always working opposite someone who was extremely gifted and skilled, and you had to bring your game up to match theirs."
---
The Life and Legend of Wyatt Earp (1955-61)
Henry Fonda, Kurt Russell, Burt Lancaster, James Garner and Kevin Costner are among the notables who have worn the badge of Wyatt Earp in movies. But if you're of a certain age — or a younger western fan raised on reruns — Hugh O'Brian will always be the first actor you associate with the larger-than-life figure. Throughout six seasons of half-hour episodes, O'Brian made an indelible impression as the "brave, courageous and bold" lawman in what is widely recognized as television's first "adult western." Of course, given the broadcast standards of the time, it was safe for kids to watch, too.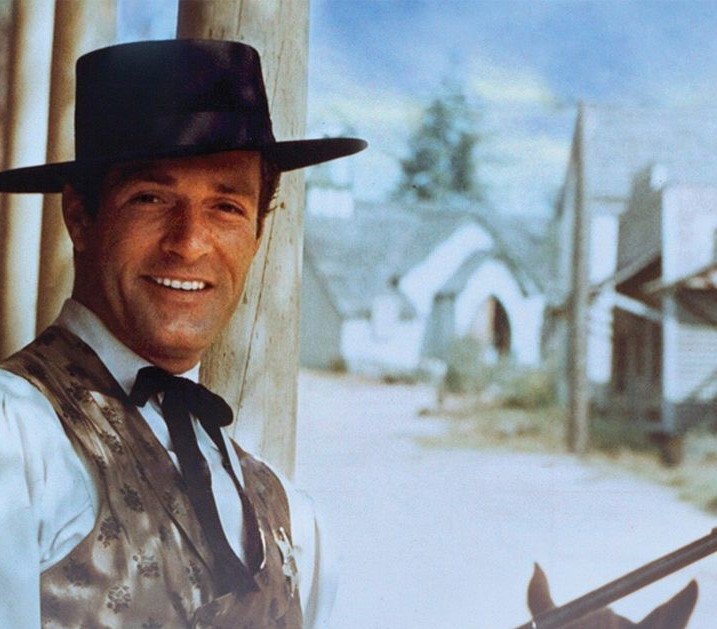 ---
The Big Valley (1965-69)
As writer David Hofstede noted in our original 2002 list of The 100 Best Westerns Ever Made: "Barbara Stanwyck had a knack for working well in a frontier setting, and she found her best western role not in movie theaters but in this popular television series that blended good drama with plenty of action." Striking the perfect of stately dignity and feisty resourcefulness, Stanwyck starred to perfection as Victoria Barkley, owner of a massive Stockton, California ranch she ran with sons Jarrod (Richard Long) and Nick (Peter Breck), daughter Audra (Linda Evans) — and Heath (Lee Majors), the illegitimate son of Victoria's late husband, who was accepted by Victoria and his half-siblings after earning his place in the family.
---
Bat Masterson (1958-61)
"Back when the West was very young, there lived a man named Masterson…" And so we were introduced each week by the infectiously catchy opening theme song to the Wild West legend Bat Masterson, engagingly played with just the hint of a wink by Gene Barry. Sporting a derby hat, a gold-topped cane and a really, really dapper wardrobe, Masterson rode throughout the West looking for adventure — and, yes, lovely ladies he could dazzle — while often delivering unpleasant surprises to any varmint who dared question his sartorial splendor. Trivia note: Much like Davy Crockett sparked a craze for coonskin caps, the producers of Bat Masterson licensed manufacturers to sell scads of toy canes to impressionable youngsters (including the author of this list).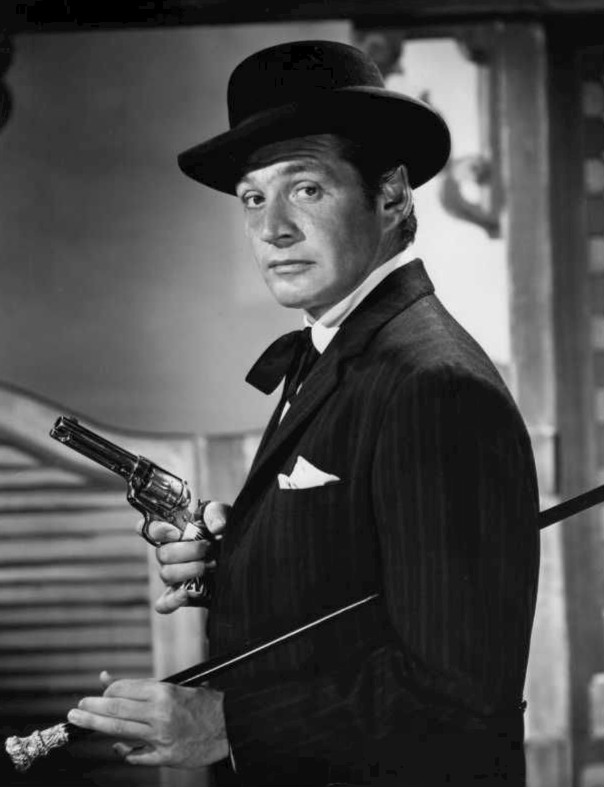 ---
The High Chaparral (1967-71)
Although it never quite emerged from the shadow of Bonanza — which it aired immediately afterwards on Sunday nights during its first season — The High Chaparral attracted (and still commands) its own sizeable fan base as a well-done western focused on a land-owning paterfamilias and his extended family. The sold cast included Leif Erickson as Arizona Territory rancher Big John Cannon; Linda Cristal as Victoria, Cannon's conspicuously younger Mexican wife; Henry Darrow as Manolito, Victoria's roguish brother; Cameron Mitchell as Buck, Cannon's boisterous sibling; Mark Slade as Billy Blue, Cannon's brooding son; and Frank Silvera as Don Sebastián Montoya, the wealthy Mexican rancher who just happens to be Victoria's father.
---
Justified (2010-15)
Some may complain we're stretching the definition of "western" a bit by including on our list this C&I reader favorite, a terrific contemporary crime drama based on the writings of Elmore Leonard. But really, how can anyone question the western bona fides of any show in which the protagonist confidently sported a Stetson to accentuate his swagger the way Timothy Olyphant did here? As Deputy U.S. Marshal Raylan Givens, he dispensed his own brand of Old West-style tough justice in Eastern Kentucky, where Givens grew up alongside frenemy and series-long adversary Boyd Crowther (the amazing Walton Goggins), and tangled with a lineup of miscreants that included one played by a shockingly unmustached Sam Elliott.
---
Deadwood (2004-06)
Long before folks started complaining about the fusillades of F-bombs launched on Yellowstone and 1883, Deadwood polarized audiences with language that might make even John Dutton blush. But for those  who appreciated its brazenly warts-and-all vision of life, death, and the frequently contentious course of community-building in the eponymous South Dakota mining town during the 1870s, the gutter talk and gross excess were intrinsic elements of its appeal. Indeed, while witnessing the interactions among flinty sheriff and businessman Seth Bullock (Timothy Olyphant), foul-mouthed saloon owner Al Swearengen (Ian McShane), and other vividly drawn characters, you couldn't help thinking: If there had been no censors around to keep things family-friendly, would Matt Dillon and Ben Cartwright have behaved — and cussed — like this in the golden age of TV westerns?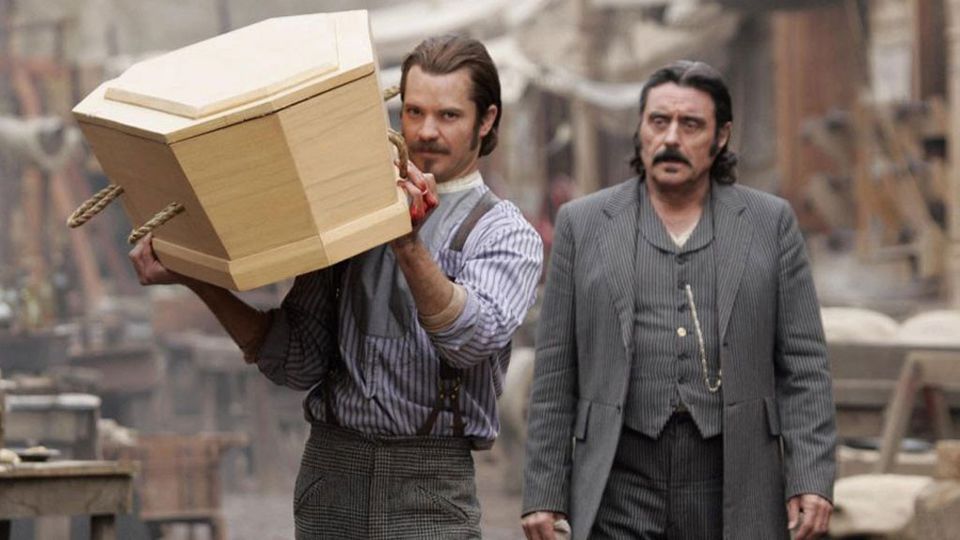 1/3
---