The platinum-selling country music superstar has forged a second career in movies.
With Trace Adkins set to return April 21 for a third season of the INSP competition series Ultimate Cowboy Showdown, and scheduled to make his debut as a weekly TV drama lead this fall in Monarch, we thought it would be a great time to look back at some of the Louisiana-born country music star's standout efforts as an actor. Just click on the title, and you'll see where to stream it.
---
Nineteen years after he memorably played Doc Holliday in Tombstone, Val Kilmer assumed the role of an aging Wyatt Earp in director Michael Feifer's 2012 western, which has the legendary lawman recalling his days as a young deputy (played by Shawn Roberts). Trace says he was cast as Mifflin Kenedy, the protective father of outlaw brothers, largely because of his riding ability. "Actually," he told us in 2012, "I thought it was funny, because the first thing they asked me when I showed up on the set that first day was, 'Can you ride?' And I told them, 'Sure. I grew up riding. I'm no stranger to a horse's back.' And they looked at me for a moment as if to ask, 'Really?' And at the time, I thought, That's a funny question. Doesn't everybody know how to ride? But they told me [that] a lot of actors just flat-out lie because they want the part so bad. I guess they figure, How hard can it be? I'll just show up and get on the horse, and I'll be able to ride. And then they find out they can't do it."
---
Trace is by no means the star of Traded — indeed, he's barely around for a quarter of the movie — but he makes every minute count, and steals every scene that isn't bolted to the floor, during his limited screen time in the gritty 2016 western directed by Timothy Woodward Jr. Michael Pare stars as Clay Travis, a gunfighter-turned-homesteader who takes his six-shooters out of mothballs when his runaway teen-age daughter is dragooned into white slavery by Ty Stover (Trace) a Wichita bordello owner who runs his place of business with a whim of iron. Trace makes an indelible impact as a slow-talking, quick-shooting tough guy who demands polite behavior from his clientele — as he tells a brutal rowdy just before blasting him, "We don't abide ill manners in this establishment!" — and must be coaxed with enhanced interrogation techniques before he tells Travis anything about his missing daughter.
---
By 2017, Trace had already established a second career as a reliable supporting player (and occasional star) in independently produced westerns. He reunited with Traded director Timothy Woodward Jr. for this fanciful recounting of the period when James Butler Hickok (Luke Hemsworth) — a.k.a. Wild Bill Hickock —  was marshal of Abilene, Kansas. Trace adds one more notch to his acting resume with his commanding badassery as Phil Poe, a corrupt saloon owner who doesn't much cotton to Hickok's law-enforcement methods — especially when Hickok must deal with a rowdy named Sullivan in his saloon. "You better be careful shootin' people," Poe complains. "Sullivan's a good customer."
---
In this satisfyingly old-fashioned oater written and directed by C&I Movie Award-winner Justin Lee (Badland), an investigative reporter (Scout Taylor Thompson) needs the help of a legendary gunfighter (Stuart Townsend) when she goes looking for stories about outlaws in the titular town. Trace periodically pops up to effortlessly pilfer scenes while wrapping his honey-dripping drawl around Lee's dialogue as Captain Hensley, commander of a nearby Army fort. He projects intimidating authority without relying at all on his formidable physicality — truth to tell, he remains seated throughout most of the movie — and scores devastating impact with growled insults aimed at underlings ("Stay away from big words, Private — they don't agree with you!"), a bothersome Apache Junction madam ("Don't you have a brothel to run?") and anyone else who displeases him.
---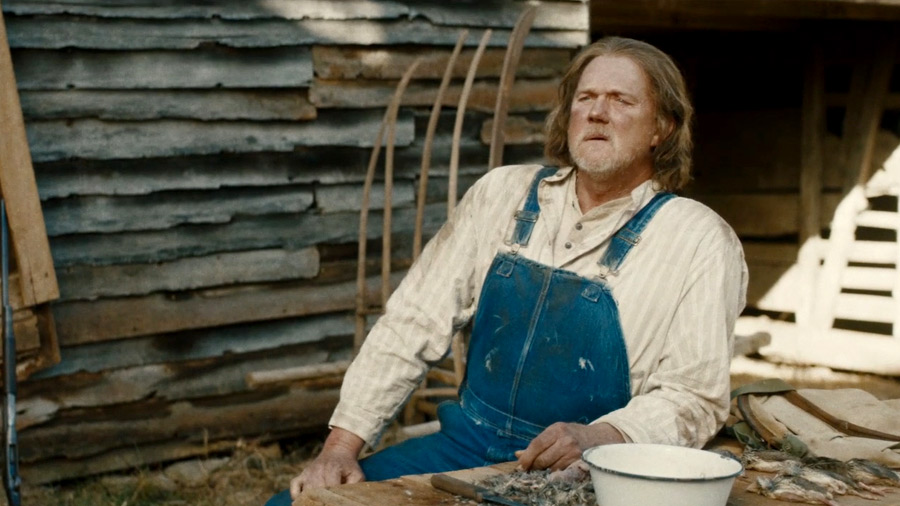 Tim Blake Nelson was surprised — and, he admits, not altogether pleasantly — when he heard Trace would be playing his brother-in-law in Potsy Ponciroli's excellent western about an aging farmer with a dark past as a notorious gunslinger. "I'll just tell you that I wasn't so confident in the idea conceptually of Trace playing the role," Nelson told us last year, "because you feel like, ah, yet again, they're going to cast a country music star in a western so that they can get that demographic. But it took about a minute of being with Trace, even before we started playing the scene together, to understand this was a really good choice. He's superb in the movie, and he's a fantastic acting partner. Above all, he's an absolute gentleman. Once I heard his voice, after growing up in Oklahoma, I felt like I'd known him all my life."