Country stars join us in singing the praises of one of the most influential artists and songwriters of all time in her 90th birthday year.
Loretta Lynn is one country artist that everybody knows. You might have followed her storied career since her 1960 debut hit "I'm a Honky Tonk Girl." Maybe you learned all about her life growing up in Butcher Hollow, Kentucky, through the autobiography Coal Miner's Daughter or the classic biopic film adapted from it. You might have taken notice of her musical collaborations with everyone from the late Conway Twitty to the White Stripes frontman Jack White.
No matter how you know her, you know her. And chances are you love her. After selling more than 45 million albums and maintaining her status as the most awarded female country artist, Lynn still seems as affable and approachable as she was when she was just getting her start in the music business. 
Photography: (From L to R) Pictoral Press LTD/Alamy Stock Photo; David McClister/Courtesy Essential Broadcast Media
The legend reaches her milestone 90th birthday on April 14, more than 80 years after she heard a tune on a radio for the first time at age 11 — Ernest Tubb's "Walking the Floor Over You," to be exact. While the song and the experience made an immediate impact, Lynn has admitted in the past that making music for herself was never her idea. 
On her 18th birthday, her husband, Oliver "Doolittle" Lynn, bought her a $17 Harmony guitar from Sears. A few years later, he told her she had a good voice. "After a while, I got to where I could play a pretty good tune on it. First, I was singing Kitty Wells' songs on it, but after a while I started making up my own," she recalls in the pages of Coal Miner's Daughter. "Anything I go at, I go at hard, because I only do what I want."
By the time Lynn was 28, it was time for her to take the stage and start playing her own songs for an audience of more than just her husband and children. In 1960, when the Lynns were living in Custer, Washington, they went to Delta Grange Hall in Lynden to hear country music. She was eventually offered $5 to play there. When they asked her for a repeat performance and paid her another $5, Lynn said, "I thought I was a millionaire." 
Now 62 years later, she likely still experiences the intense gratitude for the legendary career she's put together, even though she's never been one to flaunt her fortune. Her late manager David Skepner once said, "Loretta has no idea what she's worth. All she knows is that she has a good time every day and she gets well paid for it."
For Lynn, all these years in the country music business weren't just about making a living. She was trailblazing, whether she intended to or not. In 1962, she was inducted into the Grand Ole Opry just a few years after the first female solo artists Jean Shepard, Kitty Wells, Margie Bowes and Patsy Cline were. Then a decade later, when she was nominated for the Country Music Association's entertainer of the year award in 1972, the nomination alone was history-making.  "I didn't care if I won it. I was just proud to be the first woman ever nominated. I think it's good for people to realize that women can do things as good as a man," Lynn said. 
Real country music is pure. It's simple. It's real. When a song ain't real, how's it supposed to get anybody through anything?
She did win the top prize that year and has continued to stockpile trophies since. She's won plenty more CMA Awards, Academy of Country Music Awards, Grammy Awards, American Music Awards, and even the ACM Honors poet's award in 2021, a lesser known but still prestigious honor that goes to the artists with longstanding lyrical contributions to country music. As Lynn herself has said, "You can't be halfway in this business." And she never has. 
Photography: Jimmy Ellis/USA Today Network
Part of what has continued to set Lynn apart is her longevity in country music, and part of that comes from how she sees the music. How she's always seen it. "Real country music is pure. It's simple. It's real. When a song ain't real, how's it supposed to get anybody through anything? Country music will always take you back," the proud Country Music Hall of Famer says. 
"And it'll always feel like home, no matter what."
---
Carrie Underwood
As artists, we all stand on the shoulders of the incredible artists that have come before us, but I think that is especially true for females in country music. Strong, talented, smart, sassy women like Loretta Lynn are responsible for any of us having the opportunities in this business we have today. I think we all sang into our hairbrushes trying to emulate the vocal styles of artists like Loretta. Getting to sing 'Still Woman Enough' with her and Reba was a moment I will never forget. Music is in Loretta's soul. Her legacy will outlive us all, which is so beautiful."
Martina McBride
"For some people, country music is what they do. For Loretta, country music is who she is. When I was a kid on the farm in Kansas, I remember hearing 'One's on the Way,' and I thought it was so cool because it's about Topeka. Nobody else could sing those kinds of songs. They're so her. I was drawn to her authenticity, and how her voice is so honest. It sounds like she's having a conversation with you. I wanted to do music like that, too. And she's not going anywhere. When I see her, she'll be like, 'We need to do a tour together. Me and you. We'd tear it up.'"
Tanya Tucker
"When I was a kid, I used to sing 'Your Squaw Is on the Warpath,' 'Fist City,' 'Sweet Thang,' and more. Loretta Lynn was a big influence for me. She is a part of me. When I was out there singing in bars, trying to get started, I sang all her songs. Every one of them. 'Blue Kentucky Girl' was one of my favorites and I still do that in my shows. I started out copying her and ended up sounding like me. There's nothing false about Loretta."
Lee Ann Womack
"I sang a lot of her songs when I started as an artist; people always wanted to hear songs like 'Coal Miner's Daughter,'
because I was so country. She is a part of everything for a chick country singer. I've always appreciated being able to hear such an iconic country singer who never tried to be cool or pop. She just was cool. And Loretta was just being Loretta. You hear other singers — myself included — and sometimes it sounds like they're a little lost. Like they don't know vocally where they are. But Loretta never went through that because from the very first song she recorded to the most recent one, she sounds exactly the same. When she opens her mouth, Loretta comes out."
Trisha Yearwood
"When I was a girl, I heard 'Coal Miner's Daughter' and would sing it to the top of my lungs. Before there was karaoke, you could buy LPs that were basically tracks to sing along with your favorite songs. I was a little impersonator and was definitely influenced by Loretta's sound. I tried to imitate her style and voice. Loretta came from extreme poverty. Her 'job' saved her life and her family. I think she's never forgotten where she came from, and I think that's part of why she works so hard. She is respected and revered for being a pioneer in singing and songwriting, in a time when women definitely did not get the same chances as men in that field. Loretta has already made history, but her work ethic keeps her going. She paved the way for every female artist that followed. I'm here because she was there."
Carly Pearce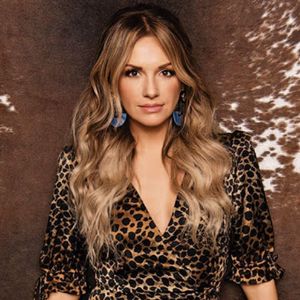 "My earliest memory of Loretta was when I sat down with her album Blue Kentucky Girl when I was 12, and I learned to play 'Blue Kentucky Girl' on the guitar. We all grew up loving her and all had our different versions of why we related to her. It was very natural. That's why I can write stories out of my life. She never tried to write within a margin or write songs within a fence. I'm sure she was scrutinized at time for her lyrics. What that taught me is that you can be real and raw and unapologetically yourself. And there's something about the Appalachian music. If you grow up in Kentucky, you understand the richness of what that area brought to country and bluegrass music. You can hear some of that sorrowful singing in her music and the tear in her voice. When I'm 90, even if nobody's listening, I'm gonna continue to do it because it's who I am."
Deana Carter
"Loretta was just dealing with life with her guitar before she even started making music. Her sense of humor, her sense of strength, and the fact that she said things so bluntly stood out to me. She would never cut down the man as much as she'd address the issue in the other person, and she'd do it in such an honest and personal way. Speaking your truth like that is something we both share. And what she was doing was so risqué for the times. She was singing about 'The Pill' in that era when you never really even said the word 'pregnant.' Those were private things, but she said them. She was so groundbreaking and set the bar for a lot of females. And even now, she still shows up in her sequins, ready to go, and walks up to the microphone ready to sing her songs and tell her stories so authentically. That is so inspiring, and I'm grateful that we have an artist like Loretta who never tried to be something she's not."
---
From our April 2022 issue
Find our extended list of cherished Loretta gems and listen along with our Spotify playlist. 
Photography: (Cover image) Bill Preston/USA Today Network