These nifty features are worth the upgrade.
Nobody here at Cowboys & Indians necessarily needs a remote-controlled toilet flusher. Such was one of the "smart" solutions on display at a media event previewing the 2019 HGTV Smart Home. The newly built home—fresh paint and all—sits in the Fairway Ranch development, a growing master-planned community in the suburb of Roanoke, Texas, just outside of Dallas.
Garon Bruce, a division manager for Highland Homes, the luxury homebuilder for the project, kindly toured members of the media (including myself) through the 3,400-square-foot, fully furnished residence that will make its television debut April 26.
1/20
Click the image above to see a slideshow of the interiors designed by Tiffany Brooks
---
All the usual "smart" suspects were there: a voice-controlled lighting and sound system, Sleep Number mattresses, the latest in front-door video surveillance, Lennox's state-of-the-art air purification and conditioning units, Kohler's automatic toilets—you name it. Need to steam the shower from the garage? Just tap your phone!
However, it wasn't these smart technologies that caught my eye. Instead, several upgrades stood out as downright sensible, functional features that could become essential to the efficiency of any home.
Here, the five ideas from the HGTV Smart Home that suit us best.
Dog-friendly Considerations
A separate dog-washing area features a Kohler hand shower and oversized sink, with surrounding tile. A hidden dog-food drawer holds two dog bowls for food and water and pulls out from the toe-kick area of the laundry room. A doggie pocket door, which resembles a baby gate, is nicely tucked into the wall that separates the main entryway from the laundry room hallway. The BISSELL IconPet Robotic Vacuum is designed for pet hair and is WiFi enabled, so you can run it from anywhere, assuming it doesn't send your actual pet into a frenzied meltdown.
Must-Have Hidden Safe
Willa-Hide makes a safe concealed as a full-length mirror. This one is located in the master closet, which provides a convenient solution for keeping valuables safe and nearby, but out of sight.
Convenient Trash Chute
A pull-out cutting board with a hole in it located above a pull-out garbage can? No more having to walk all the way to the trashcan balancing a knife in one hand, the cutting board in the other, while scraps of food inevitably fall to the ground.
Automated Natural Light
Motorized Phantom Screens offer easy (and essential) protection from summer mosquitoes as well as the option of a freely open back patio at the touch of a button. Solar skylights from Velux monitor everything from online weather forecasts to the indoor temperature to humidity and carbon dioxide levels, and uses this information to automatically open skylights or adjust blinds to your liking or to your own energy-efficiency standards.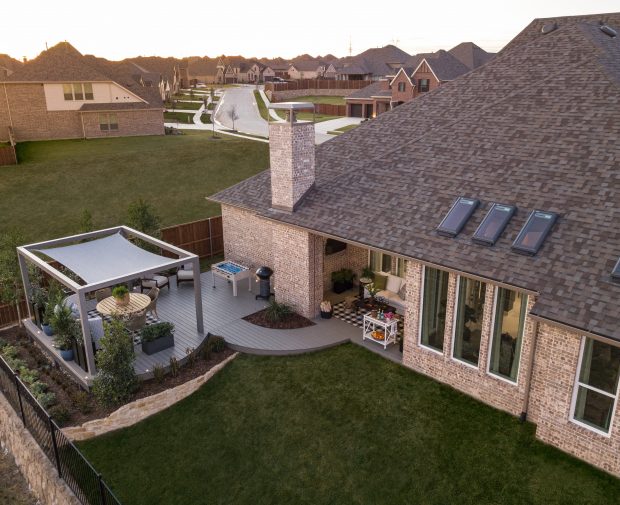 Concealed TV Set
Samsung has a wall-mounted television called The Frame that looks like a piece of art when not in use. This would squelch the hang-up I have with televisions mounted haphazardly above a fireplace. With this option, the TV also hangs flush against the wall, without any unsightly cables or wires.
Honorable Mention
Initially, I flinched at the extravagance of the SWASH system, an at-home dry-cleaning unit. Then, I found out it promises to refresh clothing in just 10 minutes. If I didn't value my neighborhood family-owned-and-operated dry cleaners so much, I would have given this a second look.
---
The three bedroom, three-and-a-half bathroom house is part of a grand prize worth $1.2 million that will be awarded to one lucky sweepstakes winner this summer. Included in the prize are all the furnishings inside the home, a 2020 Mercedes-Benz GLE, and $100,000 from Lending Tree. Enter for a chance to win beginning April 24, 2019.