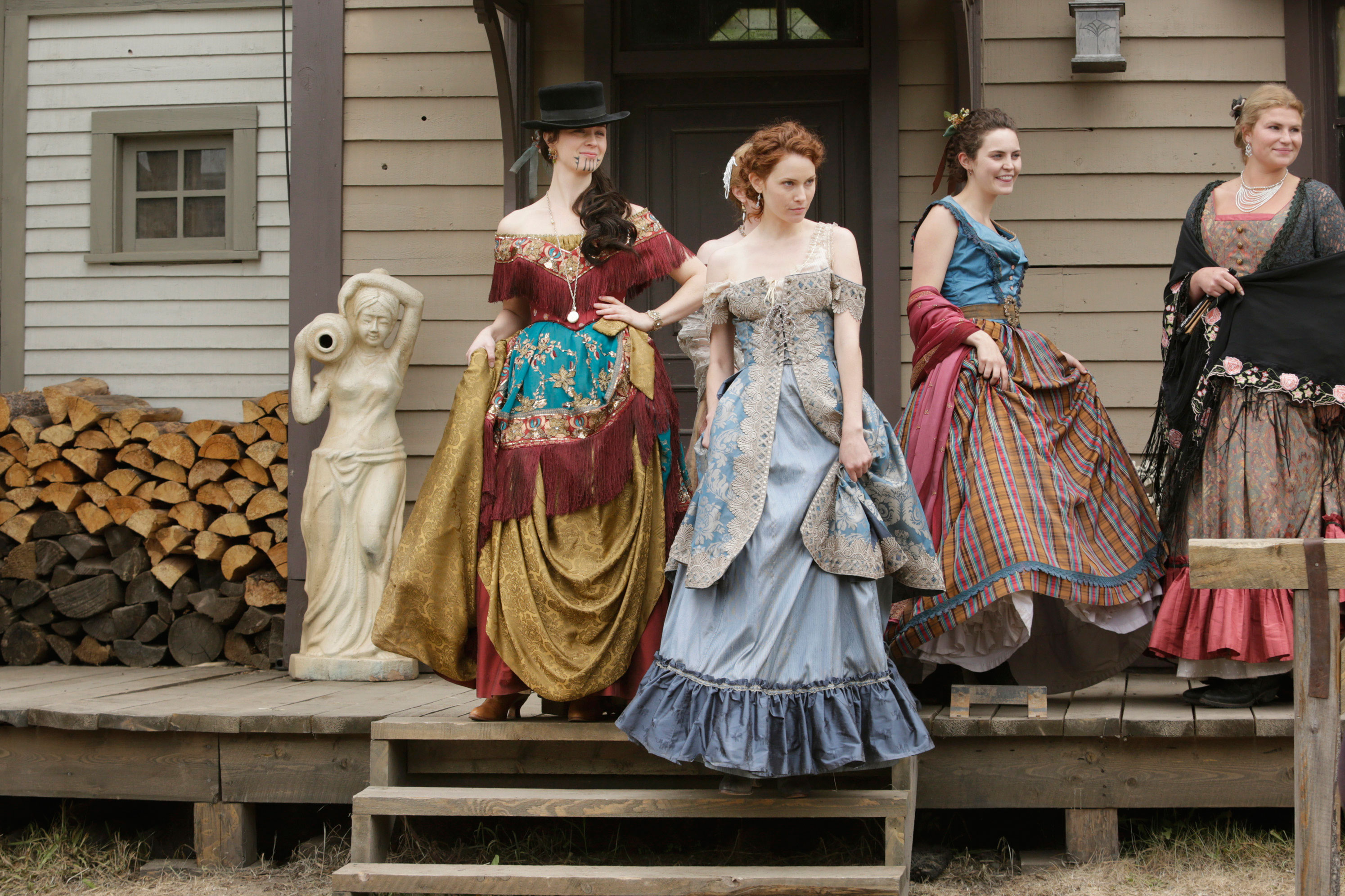 C&I contributing editor Joe Leydon talks with Hell on Wheels cast members about coming to the end of the line.
Robin McLeavy
(Eva Toole)
When Australian-born actress Robin McLeavy was cast as the formidably resilient Eva Toole early in the first season of Hell on Wheels, she thought she was signing on for a temporary gig. "Originally," she says, "I only had a three-episode arc. But they just kept writing story lines for me. When you think about it, it really has been an epic journey."
And a transformative one.
During the five-year run of the AMC series, McLeavy has made an impression as indelible as Eva's blue chin tattoo as her character has evolved from victimized prostitute to ruthless businesswoman, winding up as a fully vested partner in a frontier saloon. Along the way, Eva has loved and lost, gambled and won, often making brutally practical decisions — such as when she gave up her baby to ensure the child would have a better life far away.
"For her to end up as an entrepreneur was really the most satisfying part of it for me," McLeavy says. "For her to come from such a traumatized background and then to come out on top — it was hugely satisfying."
Eva is actually a fictionalized version of a real-life person: Olive Ann Oatman, a Mormon girl whose family was attacked by Yavapai while traveling westward in 1851. "Everyone in the family was massacred," McLeavy says, "except for Olive and her sister. Then they lived as slaves with the Yavapai tribe until they were traded to a Mojave tribe."
After Olive's sister died, "The Mojave kind of took her under their wing — they were the ones who gave her the tattoo — and treated her like family. In fact, when she was discovered by white people, she didn't really want to leave."
McLeavy is pledged to secrecy when it comes to revealing how Eva fares in the finale. But she will say that her last scene in the show "was exhilarating, emotional, and just perfectly captures my feeling towards the whole show and towards my character. The writers gave me a real gift, an absolute gift for the final episode."
Phil Burke
(Mickey McGinnes)
Irish immigrants Mickey and Sean McGinnes headed west to make their fortunes in the premiere season. But only one of the dissimilar siblings came anywhere close to achieving his goal. Mickey eventually opened a successful saloon in a railroad town. Along the way, however, he had to kill Sean, to keep his brother from murdering an innocent woman — and, perhaps, to avoid being implicated in Sean's earlier misdeeds.
At first, Mickey "was like this wide-eyed puppy dog," says Irish-Canadian actor Phil Burke, who has thoroughly enjoyed his five-year run in the role. "Moving out West, he didn't necessarily know what was going on."
But he learned quickly. "As I've said countless times, Mickey is like the railroad itself. The railroad is progressing, and it's moving forward. If you don't progress with it, then you are going to be left behind. Or you're going to die, or you're going to get killed. I think Mickey's street smarts and adaptability enabled him to pick up on that a lot faster than other people — one of them being his brother. Sean wanted to stick with [railroad tycoon Thomas "Doc" Durant]. And Mickey was like, 'Dude, you are going to lose; you are going to die.' And then behold: The man got shot.
"Of course," Burke adds with a laugh, "he got shot by Mickey. Which was part of another story altogether. But, again, I think the survival aspect with Mickey really helped propel his story line. Thankfully, it kept the writers interested. And from what I've gathered, it kept the audience pretty interested, too."
As Hell on Wheels nears the end of the line, Burke says he'll miss the opportunities to get his cowboy on. "My favorite episodes have been the ones where I do horseback riding or get into fights and shoot guns. I guess that's because I played cowboys and Indians while I was growing up."
Jennifer Ferrin
(Louise Ellison)
Jennifer Ferrin didn't arrive until Season 3, but she wasted little time making her presence felt as Louise Ellison, the New York newspaper reporter eager to cover "the story of the century," the construction of the Transcontinental Railroad.
The Georgia-born actress proceeded to illuminate the many facets of this endlessly fascinating (and, yes, sexually venturesome) character, expressing everything from resolute boldness to raw vulnerability. And even on those rare occasions when Louise let her guard down, Ferrin continued to convey the woman's tenacity as a truth-teller and muckraker.
"One of the most interesting things about playing Louise," Ferrin says, "is that she was unapologetically who she was — ahead of her time, smart, fearless. And yet she was all of that within the constructs and sometimes confines of a time period when it wasn't always acceptable, when women were not respected or revered in the way that they mostly are today."
Ferrin admits she feels a touch of melancholy as the Hell on Wheels adventure draws to a conclusion, "because it's always so hard to say goodbye to a character [like Louise]. I also think it's quite a challenge for the writers to wrap up in a nice, neat package every single story line. I guess I was satisfied with how they did it. But, certainly, I would have loved to keep going. You just want to keep discovering who these characters are and where they might go."
As for the show's loyal viewers, "I think it'll be bittersweet for them, too. I think people will feel they're getting somewhat of a resolution. And yet I think if you're a fan of the show, it leaves you wishing you had more."
---
Read what Hell on Wheels star Anson Mount said about his trip to the end of the line.
From the May/June 2016 issue.