At 86, the recipient of the first-ever Ranching Heritage Association Working Cowboy Award still works on horseback as a cowpuncher.
Cowboys at the Four Sixes knew something was wrong when a horse returned to the barn with an empty saddle and his reins dragging the ground.
The horse belonged to Boots O'Neal, one of the most seasoned cowpunchers on the ranch. They knew an empty saddle meant trouble, especially given O'Neal's long experience on horseback. He had been riding since 1946, when he was 14 years old.
The day his horse came back without a rider, O'Neal had been out in remote pastures with terrain sometimes inaccessible except by horseback. Even ascertaining where he was would be a challenge, but the cowboys eventually found him — unconscious — and called for a helicopter medevac.
"It was really hurting," O'Neal says, remembering that day five years ago when the horse "bucked me off pretty hard and jumped on me."
"I told those helicopter boys, 'I've had a pretty good run. I wish you would leave me here.' They said, 'No, we're going to load you,' " O'Neal says. "I had 12 ribs broke — eight on one side and four on the other, and one of them stickin' in my lungs. And I had a vertebra broke in my back, and the lower lobe on my brain was bruised and bled just a little."
After a short stay at the hospital, O'Neal didn't wait to be dismissed. Louise Leathers, wife of Four Sixes general manager Joe Leathers, compared his departure to a jailbreak, O'Neal says. Six weeks later he was riding horses again. Did he get back on the same horse? "I'm ridin' him now," he answers.
Boots O'Neal still rides a horse, ropes, and drags calves to the fire despite being a few months shy of 87 years old. His daughter, Lauri, is pretty sure he'd never be able to settle in at a retirement home — and pretty sure the staff at a retirement home would never be able to deal with him.
O'Neal started riding 73 years ago and has worked for some of the most historic ranches in Texas — JA, Matador, Waggoner, and the Four Sixes. He's been a top hand at the Four Sixes in Guthrie, Texas, for the last 29 years.
O'Neal calls himself "a cowpuncher." It's all he's ever wanted to be. He had good years as a cattle inspector for the Texas and Southwestern Cattle Raisers Association and could have made cattle inspection his career except for the love of "ridin' horses."
Backtracking from that job path began one day when he was inspecting cattle at a large ranch and eating dinner at the wagon with the cowboys.
"When we were through," he says, "they saddled up to leave, and I got in that nice car to drive off. I remember tellin' myself, 'I'd rather be goin' with them than doin' what I'm doin'.' " So he went back to work for the Waggoner Ranch, where he had roped horses and punched cattle after he got out of the Army.
The Waggoner had 800 sections across six counties. In time, O'Neal became ranch foreman with more than 30 men working for him. "We had 12,000 cows and 300 saddle horses, so it was a big deal," he says. "I would be out with the cowboy crew all the time, and they really got on me about it and told me so. It caused me some trouble because I'd rather punch cows than be the boss and just drive around in a car. They'd say, 'You're out there horseback, and we need you to be in your car.'"
That difference in perspective resulted in O'Neal ending his 24 good years at the Waggoner and going to work for the Four Sixes to punch cows on horseback.
"My job is cowboying, taking care of cattle horseback," O'Neal says. "I like to ride a horse. I read one time where Winston Churchill said the outside of a horse is good for the inside of a man."
Last year O'Neal received the first-ever Ranching Heritage Association Working Cowboy Award, an award designed to recognize an outstanding individual who makes a living primarily on horseback caring for livestock on a daily basis. The RHA is a nonprofit membership organization supporting the work and mission of the National Ranching Heritage Center in Lubbock, Texas.
"The greatness of Boots O'Neal is not just that he is still cowboying in his 80s, but it's his honesty, courage, determination and optimism," NRHC executive director Jim Bret Campbell says. "Those traits reflect the values of more than 200 years of ranching in the American West."
"I've ridden lots of buckin' horses," O'Neal says. "I never did rodeo big-time because I worked ranches, and we worked seven days a week. You could get loose on Saturday and go to a rodeo somewhere locally. I won bronc ridin' three times in Clarendon, once at Seymour and Stinnett."
While O'Neal was working as a cattle inspector, he met Nelda Young in the county clerk's office in Cottle County, Texas. They married in 1962 and had Lauri in 1965. Lauri lives in Vernon. His daughter and granddaughter aren't into ranching, according to O'Neal, but they know him well enough to know he wouldn't be happy in a retirement home. "That's the way I feel," he says. "I hope my horse just comes to the barn the next time, and they come out and find me."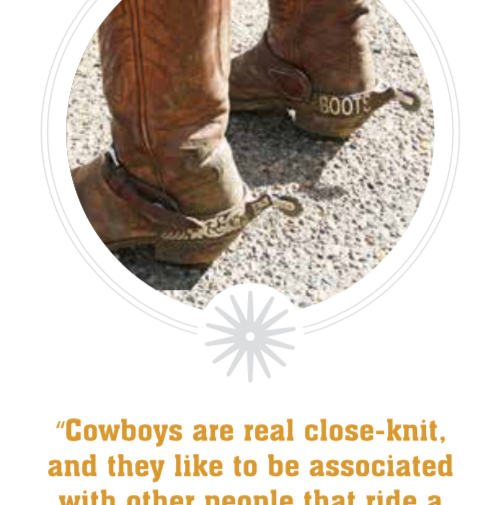 Although his daughter lives in Vernon, O'Neal lives in the Four Sixes bunkhouse at Guthrie. When his wife died in 2006, Four Sixes owner Anne Marion moved O'Neal into the bunkhouse, took out one wall to create a bedroom and living room, and helped him furnish his new surroundings. "It's the only room in the bunkhouse with carpet," he says. "I've got kind of a bachelor's kitchenette, but I can eat over at the big house."
"Anne is a super lady and really loyal to cowboys," O'Neal says. "They mean a lot to her. She wants you to dress nice and wear good hats and good boots and look like a Four Sixes man. I can be sittin' by her eatin' and be just as comfortable as I am with any friend. She'll be sittin' there telling me that two or three nights ago she was in Washington, D.C., at a dinner and sat next to the Prince of England. And here she is with me."
In the sunset of his years, O'Neal has lived long enough to be an authority on what has and hasn't changed in ranching. He remembers when "we started gettin' electricity in these little camps in the 1950s, and they got these little 13-inch black-and-white TVs." The first TV he ever saw was on the Waggoner Ranch when one of the cowboys invited him to watch a television show called Cheyenne starring Clint Walker as Cheyenne Bodie.
In the '60s, the big ranches also started giving their cowboys a day off on Sunday. "We'd always worked seven days a week," he says. "I remember well in '66 the general manager on the Waggoner called and told me to let the men off Saturday at dinner until Monday morning and 'We'll see how it works.' The old-timers said we would never get through with all the work, but we've been doing it now since the '60s, and nearly everybody turns them loose on Saturday."
The 1970s brought gooseneck trailers. "You could get one of those on a pickup and go back there and unload horses on places where you'd never been able to go on horseback before," he says. "It really changed the way we worked and lived on ranches. You could load six men in a trailer and crew cab and run down there, do a job, and be back by 11 o'clock in the morning."
Then came cell phones in the late 1990s and early 2000s. "That was the biggest change we've had in my lifetime," he says. "Everyone carries them. When cowboys are out on a big drive and you're out in a big pasture 40 miles from nowhere, you can call over the hill and see if that ol' boy has found the cows yet."
In spite of changing times, ranches still round cattle and pastures on horseback. "I used to hear my dad talk about drive leaders dropping you off. We still have drive leaders. ... We round the cattle and pair them up just like they did in Charlie Russell's day, and we break broncs every year. Cowboys are real close-knit, and they like to be associated with other people that ride a horse for a living. It was that way years ago and still is."
The man who would rather punch cows on horseback than be the boss in the car has had to make a few concessions to the aging process. He used to be able to hold with one hand a horse that was hard to handle while he used the other hand to throw on the blanket and saddle. Now, "it takes both hands and a knee to get my saddle on," he says, so he ordered a lighter saddle.
When O'Neal accepted the Working Cowboy Award last October, he received a specially commissioned set of spurs. He stood in front of nearly 600 guests and rolled the rowel on his new spurs. "It takes about five years to wear out the pin that holds the rowel on a set of spurs," he said. "I fully intend to wear these out."
Photography: Courtesy Bee Silva, courtesy Jim Jennings, courtesy Chris Lawson.