It's more than the hat, the horse, the boots, and the big screen. Our favorite movie heroes have that cowboy charisma.
The movies have introduced thousands of cowboys: straight-shooting sheriffs and bloodthirsty bandits, humble family men and brave pioneers, genuine Old West legends and fictional characters that seem as real as the friends we had lunch with yesterday.  So how could we possibly choose 15 of the greatest? Suffice it to say, with much difficulty and no definitive answers. This particular selection criterion was simply this: Imagine someone knew nothing about cowboys and wondered why they held such a prominent place in American history and folklore. What characters and movies would satisfy their curiosity and tell the story of the American West the way only Hollywood can? Here are 15 screen cowboys who we think would fit the bill.
The Ringo Kid (John Wayne)
Stagecoach (1939)
Iconic accouterments:
Dusty, wide-brimmed hat; Winchester rifle.
Defining dialogue:
"You may need me and this Winchester, Curley."
Ringo set the template for every John Wayne performance in a western. Handy with a shotgun, polite with the ladies, and more at ease on the frontier than in civilized society, the character was a game changer for the actor, Stagecoach director John Ford, and the western genre. To this day, anywhere in the world, John Wayne remains the idealized personification of the American cowboy of the Old West. And if nothing that has happened since — from the darker Sergio Leone westerns to the potty-mouthed Deadwood — has been able to shake that perception, odds are The Duke will still be topping lists like this in another hundred years.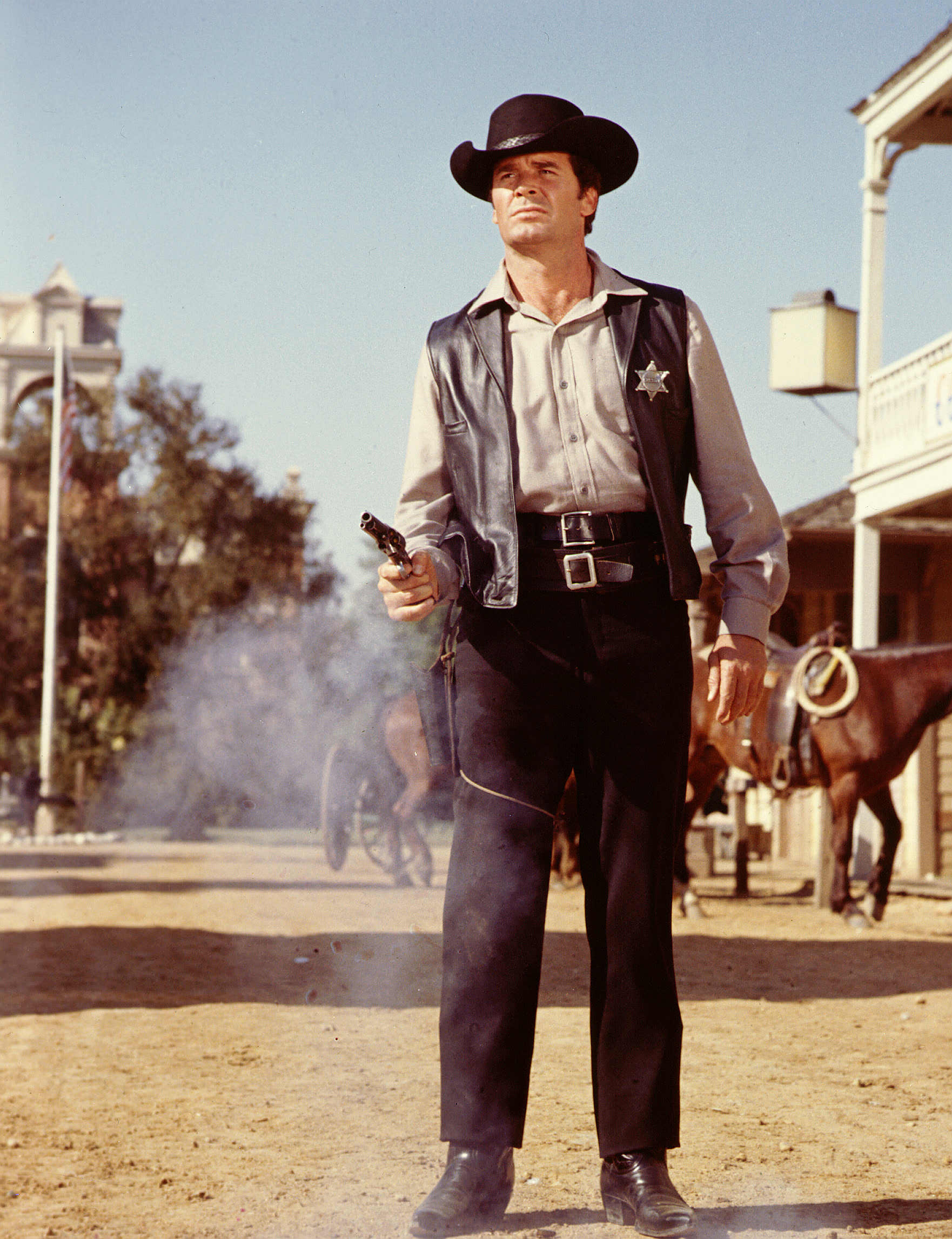 Jason McCullough (James Garner)
Support Your Local Sheriff (1969)
Iconic accouterments:
Dented badge, sardonic smirk.
Defining dialogue:
"It's bad enough to have to kill a man without having to listen to a whole lot of stupid talk from him first."
Jason McCullough just wanted to go to Australia; he wound up sheriff in a town where the jail doesn't have any bars. Support Your Local Sheriff celebrates the lighter side of the West, and there's no better ringmaster for this type of adventure than James Garner, already a veteran at the wiseass cowboy routine from his years playing Bret Maverick. Self-assured even when improvising his way out of an ambush, McCullough is a reminder that a quick wit will get you out of more trouble than a fast draw.
Shane (Alan Ladd)
Shane (1953)
Iconic accouterments:
Buckskins, Colt Peacemaker, soda pop.
Defining dialogue:
"There's no living with a killing. There's no goin' back from one. Right or wrong, it's a brand ... a brand sticks."
The best gunfighters would rather not draw their guns unless absolutely necessary. Shane was the personification of the reluctant man of action — soft-spoken and polite, but challenge his patience at your peril. Alan Ladd was short but packed a lot of implied threat in his compact frame. He was idolized by women and children, but he had no business lingering among the virtuous. Shane was a coiled spring that could only be restrained for so long.
Will Kane (Gary Cooper)
High Noon (1952)
Defining dialogue:
"I've got to. That's the whole thing."
Iconic accouterments:
Tin star, pocket watch.
On the day he marries a pacifist Quaker (Grace Kelly) and hangs up his star, Marshal Will Kane must face an outlaw he put away years ago who's back on the noon train to exact his revenge. Abandoned by the people in the town he vowed to protect, Kane confronts the outlaw and his gang in a fight he does not expect to win, simply because it is the right thing to do. Kane's fear and resentment grow more palpable as the real-time story unfolds. Gary Cooper unforgettably registers the marshal's lonely resolution and resignation to his own fate, aided by a bleeding ulcer and injured hip that left the actor in severe pain throughout the shoot.
Gene Autry and Roy Rogers
Iconic accouterments:
Guitars, white hats, embroidered shirts.
Defining dialogue:
Roy: "Happy trails to you, until we meet again."
Gene: "I'm back in the saddle again/Out where a friend is a friend."
Why choose between them? And why select just one of the 200 or so movies in which Roy and Gene were the screen's preeminent singing cowboys, playing idealized versions of themselves more than fictional creations. Their innate goodness, emanating more from their own strength of character than the interchangeable scripts they spun into B-movie cowboy poetry, made them heroes to more than one generation of little buckaroos.
Tom Horn (Steve McQueen)
Tom Horn (1980)
Iconic accouterments:
Chaps and suspenders.
Defining dialogue:
"If you really knew how dirty and raggedy-assed the Old West was, you wouldn't want any part of it."
Tom Horn was a real cowboy who, at different times in his life, was a Pinkerton detective and an outlaw, a frontier scout and a horseman with Teddy Roosevelt's Rough Riders. To do Horn justice, Steve McQueen was granted access to the western library at writer Louis L'Amour's home, where he researched the man and the period in which he lived. "Louis and I would be working in his office while Steve was sitting over on the sofa studying and making notes," recalled L'Amour's wife, Kathy. "That went on for weeks." Tom Horn was a troubled production — four directors including McQueen came and went — but the result was an authentic and atmospheric portrayal of what can happen to a cowboy when the rules of the Old West no longer apply.
Tom Doniphon (John Wayne)
The Man Who Shot Liberty Valance (1962)
Iconic accouterments:
Chaps, neckerchief.
Defining dialogue:
"I know those law books mean a lot to you, but not out here. Out here a man settles his own problems."
In a movie that illustrated how Western legends become part of the era's history, Tom Doniphon kills a ruthless, near psychotic gunfighter from the shadows and remains there while another man unwittingly takes credit for his valor. For Doniphon the legends take care of themselves — protecting a friend is all that matters. That and saying "pilgrim" a lot, which made John Wayne impressions easier for generations to come.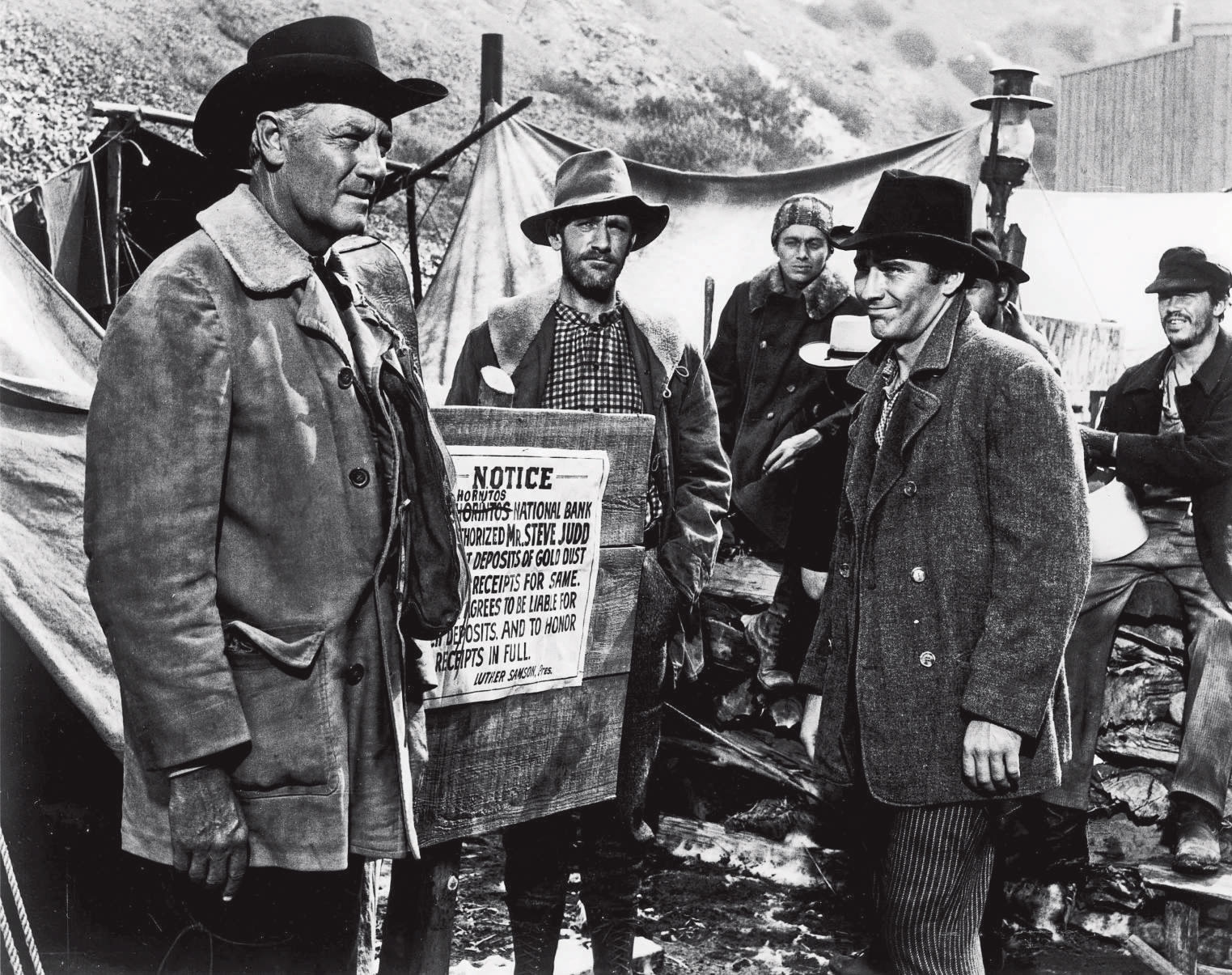 Steve Judd (Joel McCrea)
Ride the High Country (1962)
Iconic accouterments:
Black hat, bolo tie.
Defining dialogue:
"I want to know if you red-necked
peckerwoods are too chicken-gutted to finish this thing in the open."
Steve Judd is an aging ex-lawman whose innate integrity emanates not just from a literate script but from the welcome casting of 56-year old Joel McCrea who, in his fourth decade of westerns, knew what audiences expected from him. McCrea was originally offered Randolph Scott's role as the duplicitous Gil Westrum but turned it down, saying, "I'm not going to destroy my image for one picture." Judd is not the first or last older character on the list, which suggests that you're not a real cowboy until you've been around the trail a few times and learned some lessons the hard way.
Rio (Marlon Brando)
One-Eyed Jacks (1961)
Iconic accouterments:
Black shirt, red serape.
Defining dialogue:
"Get up, you scum-sucking pig!"
Rio is a brooding Billy the Kid pastiche perfectly suited to Marlon Brando, who turned the 60-day shooting schedule of One-Eyed Jacks into a six-month marathon, as he obsessed over every scene as both star and director. The result was worth it, even if audiences didn't think so at the time. The character's steely-eyed stares, introspective pondering, and sudden bursts of temper were something of a revelation for the western genre, but Brando's off-the-charts charisma made it impossible to look away.
The Lone Ranger (Clayton Moore)
The Lone Ranger (1956)
Iconic accouterments:
Black mask, silver bullets.
Defining dialogue:
"Hi-yo, Silver! Away!"
As ludicrous as a bright blue jumpsuit looks on a cowboy hero, The Lone Ranger remains as iconic as Superman, a credit to the sincerity and kid-friendly appeal of Clayton Moore. Through adventures on radio and television and in movies and comic books, the masked rider of the plains was the vigilante you could bring home to mother. And through his partnership with Tonto, he created a new Old West dynamic: the cowboy and the Indian, faithful companion and Kemosabe. The thrilling days of yesteryear have passed us by, but don't dismiss the legend of The Lone Ranger yet — a new version is now in the works with Johnny Depp as Tonto.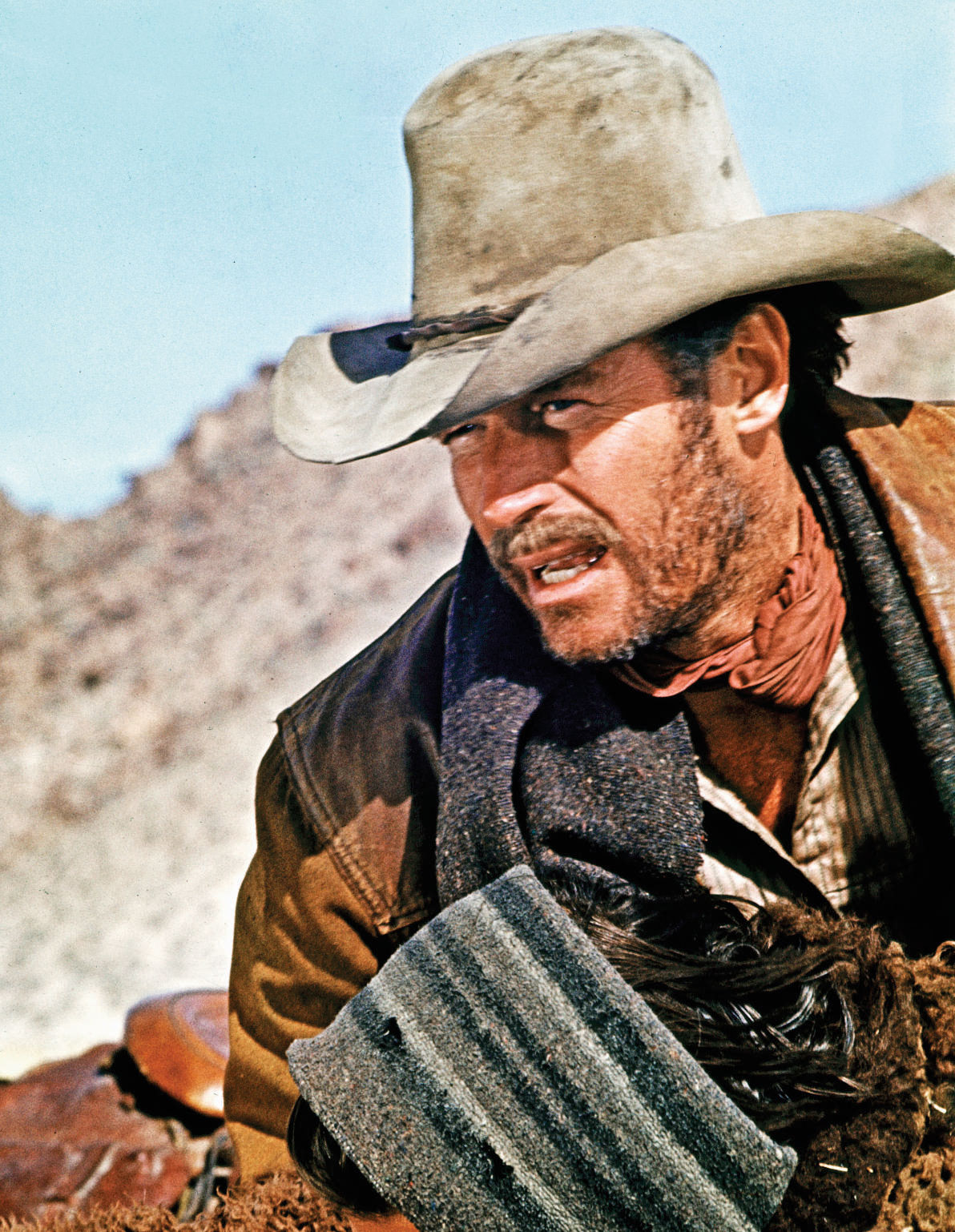 Will Penny (Charlton Heston)
Will Penny (1968)
Iconic accouterments:
Working clothes, Pancho Villa mustache.
Defining dialogue:
"It takes a heap of time, years to build up a spread. I don't have them ... years no more."
Will is a loner who can't settle down, even when presented with the most comfortable of homes and a caring woman to love. He is a "good, steady hand," who does what's right. A man like that deserves a comfortable retirement, but sometimes a virtuous life doesn't leave much to rely on in its twilight. Lacking the bombast of a typical Charlton Heston hero, Will is just another rugged man in a rugged age who had the guts but never got the glory.
Doc Holliday (Val Kilmer)
Tombstone (1993)
Iconic accouterments:
Silver cup, pearl-handled revolvers.
Defining dialogue:
"Look, darling, Johnny Ringo. The deadliest pistoleer since Wild Bill, they say. What do you think, darling? Should I hate him?"
A cultured Southern gentleman, Holliday was not only faster than the cowboys he faced, he was also smarter ("Maybe poker's just not your game, Ike. I know — let's have a spelling contest."). Val Kilmer approached the oft-portrayed O.K. Corral gunman from a fresh perspective. Sly and sullen, eloquent and cruel, Kilmer's portrayal was an Oscar-worthy performance that didn't even earn a nomination.
Will Lockhart (James Stewart)
The Man from Laramie (1955)
Iconic accouterments:
Red bandana.
Defining dialogue:
"I came a thousand miles to kill you. ... I'm not gonna rush it. I waited a long time for this."
This is a typical tough-as-rawhide western from Anthony Mann, who pulled something hardcore out of James Stewart that other directors never reached. Will Lockhart is a revenge-obsessed man on a mission: to find the men responsible for selling rifles to the Apaches, which led to the death of his brother at the Dutch Creek Massacre. Complex and ambitious, the film plays like a dress rehearsal for the frontier version of King Learthat Mann often discussed but never made.
Curly Washburn (Jack Palance)
City Slickers (1991)
Iconic accouterments:
Cigarette, withering stare.
Defining dialogue:
"Do you know what the secret of life is?"
For the three New Yorkers in City Slickers who view the West as a theme park attraction, Curly became more than part of the show — he was the real thing, a cowboy sage who dispensed frontier wisdom while terrorizing tenderfoot tourists. At the end of the trail, Curly reflects on the beauty to be found in every day, a lesson much easier to learn while riding a horse through a sun-dappled landscape. Jack Palance, a taciturn man in black as he was 38 years earlier in Shane, now revealed a tender heart beneath that tough-as-cowhide exterior, and earned a much-deserved Academy Award.
Gus McCrae (Robert Duvall) and Woodrow Call (Tommy Lee Jones)
Lonesome Dove (1989)
Iconic accouterments:
Gus: Tan creased-crown Stetson, Colt Dragoon.
Woodrow: Boss of the Plains Stetson, white beard.
Defining dialogue:

Woodrow [riding in San Antonio]: "Things sure have changed since the last time I was here. It's all growed up."
Gus: "Of course it's growed up, Woodrow. He killed all the Indians and bandits so the bankers could move in."
Woodrow: "Only a fool would want the Indians back."
Gus: "Has it ever occurred to you, Woodrow, that all the work we done was for the bankers? Hell, we killed off everybody made this country interestin'!"
It's a cliché of every genre — polar opposites working together — but in Lonesome Dove, there's a freshness to the bickering and comradeship of former Texas Rangers Woodrow and Gus, as they drive cattle from Texas to Montana. Their screen friendship makes the six hours slip away so quickly you'll long for more time in their company. Yes, this is a television miniseries, but in the quality of the story (based on Larry McMurtry's Pulitzer Prize-winning novel), depth of the characters, wonders of the cinematography, and singularity of the performances, Lonesome Dove is as cinematic a western as has ever been made. Robert Duvall (who has claimed Gus as the favorite role of his storied career) and Tommy Lee Jones play their parts as if they had already lived within them for years.
---
From the January 2011 issue.