This February we celebrate the centennial of our favorite Ponderosa patriarch with some little-known factoids.
More than four decades after Bonanza ended its 14-year run as must-see TV on NBC, Lorne Greene continues to loom large in our collective pop-culture consciousness for his iconic performance as Ben Cartwright, proud owner of the vast Ponderosa ranch and sage father to three loyal sons — Adam (Pernell Roberts), Hoss (Dan Blocker), and Little Joe (Michael Landon).
Thanks to worldwide reruns of the enduringly popular series, Greene remains a beloved figure for millions of viewers — both longtime fans who were hooked from the start and recent converts who were not yet born when Bonanza premiered in 1959. As Linda Greene Bennett notes in My Father's Voice: The Biography of Lorne Greene (iUniverse, 2004), her affectionate in-depth portrait of her famous dad: "To me, he was a very private man with a public persona who happened to be extremely recognizable. To the public, however, he was larger than life, a hero, yet someone with whom everyone felt a certain warm intimacy."
The son of Russian Jewish immigrants, Greene was born February 12, 1915, in Ottawa, Canada. (He died September 11, 1987, at age 72.) To celebrate his centennial, we rounded up some intriguing factoids about the late, great actor to offer a closer and more complete view of the man who portrayed the Ponderosa patriarch.
1. AS A NEWSCASTER, HE DELIVERED BAD NEWS.
After studying acting at New York's prestigious Neighborhood Playhouse School of the Theatre, where he was a student of the legendary Sanford Meisner, Greene returned to his native Canada in 1939. He auditioned for an announcing job with the Canadian Broadcasting Corporation and rose quickly through the ranks to become a prominent newscaster. He would eventually become known as the Voice of Canada. But during the early years of World War II — when his nightly news reports were filled with grim accounts of disasters at the front — he gained another, far less welcome nickname: the Voice of Doom.
2. OSCAR CAME CALLING EARLY.
During his heyday as a CBC newscaster, Greene also narrated several documentaries produced by the National Film Board of Canada. Established in 1938 by the Canadian government largely as a propaganda vehicle, the NFB was responsible for several outstanding shorts and features — many of them produced by John Grierson, the visionary widely hailed as the father of British and Canadian documentary film. Greene was the narrator for Churchill's Island, a 1941 NFB film depicting the defense of Great Britain, which received the very first Academy Award for Documentary Short Subject.
3. HE SCHOOLED THE PROS.
Following his military service with the Canadian Army, Greene launched the Academy of Radio Arts — a Toronto-based school for writers, actors, directors, and production personnel — in 1945. Among the school's alumni: James Doohan, who found fame as Scotty on Star Trek; Leslie Nielsen, a versatile TV and film actor who later proved to be an invaluable adviser to Greene; and Gordie Tapp, a performer and writer for the long-running Hee Haw TV series. In the 2011 Canadian-produced film Citizen Gangster, writer-director Nathan Morlando indicates that Edwin Boyd, Canada's most notorious bank robber of the post-WWII era, turned to a life of crime only because he couldn't afford the tuition at Greene's Academy of Radio Arts. Ironically, Greene actually did serve as anchor for the first CBC television newscast, which reported Boyd's 1952 escape from Toronto's Don Jail.
4. BEFORE HE WAS A COWBOY, HE WAS A SAILOR.
In terms of TV stardom, Bonanza wasn't Greene's first rodeo. Four years before he signed on for his signature role as Ben Cartwright, Greene was cast as the lead in Sailor of Fortune, a British-produced half-hour adventure series that was syndicated throughout the United States in 1957. Greene played Grant "Mitch" Mitchell, a former U.S. intelligence operative who operates a freighter in Mediterranean and Middle East waters, often transporting cargos of dubious legality. The series, filmed mostly in England, was short-lived. According to My Father's Voice, Greene did not mourn its passing.
5. WAGON TRAIN  WAS HIS AUDITION FOR BONANZA.
Greene earned his spurs while playing supporting roles in two western films — a villain in The Hard Man (1957) and a good guy in The Last of the Fast Guns (1958) — before he took charge of the Ponderosa. But it was his one-shot appearance on the TV western Wagon Train that brought him to the attention of Bonanza producers. In an episode titled "The Vivian Carter Story," the then-44-year-old actor plays a character so authoritative, he even intimidates the grizzled wagon master played by series star Ward Bond. Greene's daughter quotes her father's recollection of the face-off: "When the moment came, I rose two inches above my normal height, turned up all the decibels and let the dialogue come falling out ... . Mr. Bond had also been to acting school and ... was great [at reacting]. And that was all I had to do, except watch him crumple, convincingly dominated."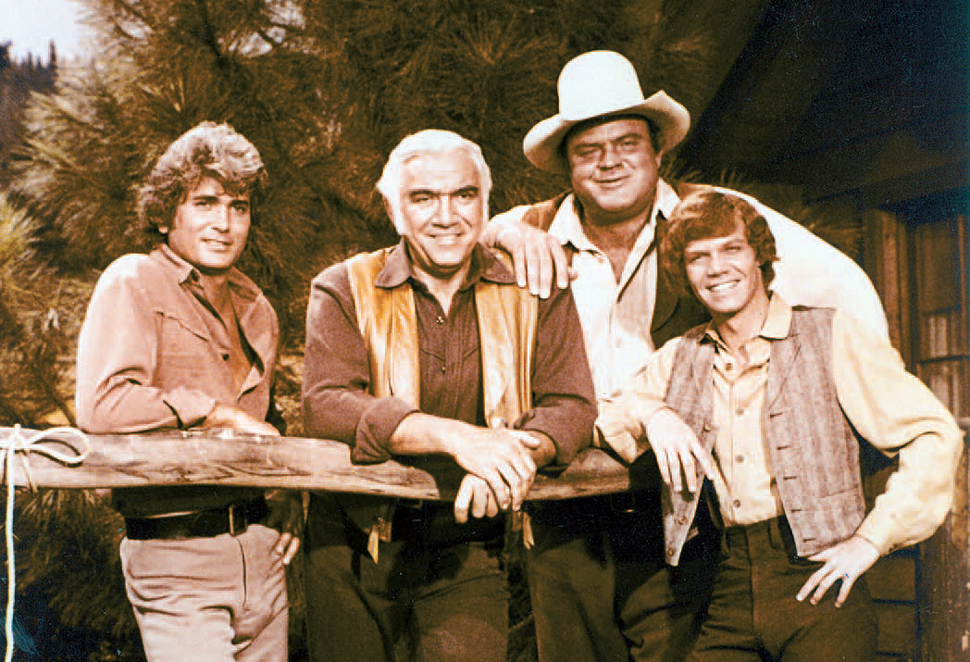 6. HE COULD HAVE BEEN ADAM.
While Bonanza was in the pre-production stages, Greene was offered his choice of roles — paterfamilias Ben Cartwright or eldest son Adam Cartwright. (The latter part eventually went to Pernell Roberts, who was 13 years Greene's junior.) As Bennett reports in her book, Greene sought advice from his friend and fellow Canadian, Leslie Nielsen, who counseled wisely: "There's no way for you to emerge without a tremendous position of significance in the show. ... Probably all four of you will achieve equal prominence. But of the four of you, the only one who can achieve the most prominence is yourself because you're the father and they're all three tied to you. ... I wouldn't even give it a second thought." Greene took Nielsen's words to heart.
7. "RINGO" WASN'T HIS ONLY RECORD.
Greene collaborated on two memorable Bonanza tie-in albums with costars Dan Blocker, Michael Landon, and Pernell Roberts, including Ponderosa Party Time! (which aptly features his rendition of the song "Ponderosa") and the holiday-themed Christmas on the Ponderosa (for which he robustly warbled "Stuck in the Chimney," a novelty tune about an over-indulgent Santa). On his own, he recorded Welcome to the Ponderosa, the 1963 album that introduced "Ringo," an improbably popular ballad about the life and death of a notorious gunfighter that reached No. 1 on the Billboard singles chart. For the flip side of the single, Greene recorded a version of the familiar Bonanza theme with lyrics never heard on TV. Greene's discography also includes Young at Heart, a 1963 collection of standards ranging from "As Time Goes By" to "You Make Me Feel So Young," and The Man (1965), which includes his cover of the Tennessee Ernie Ford hit "Sixteen Tons."
8. HE GOT THE POINT.
When acupuncture entered the U.S. mainstream in the wake of President Richard Nixon's 1972 trip to China, Greene was one of its earliest enthusiasts. Indeed, he appeared on the cover of the April 15, 1974, issue of People with healing needles stuck in his ear. People reported: "Lorne Greene's back pained him so badly he could barely sit still for five minutes in his makeup chair. At night he couldn't sleep. When a back corset and breathing exercises brought no relief, out of desperation he tried acupuncture. After his first treatment, he recalls, 'I got dressed, went home, and waited for the pain to return. It never did.' Greene was so delighted that he has become a big booster of the art, having recommended treatment to more than a hundred people."
9. HE MADE THE EARTH MOVE.
In Earthquake, the 1974 disaster flick that always will be remembered (if not forgiven) for introducing the Sensurround gimmick, Greene performed capably, even while straining credibility, as the father of a character played by Ava Gardner. Greene was all of seven years older than his on-screen offspring.
10. HE TRAVELED TO INFINITY AND BEYOND.
Just about every boy dreams at one time or another of growing up to be a cowboy, a cop, a firefighter, or a spaceman. Thanks to television, Greene got to fulfill all those fantasies — albeit with mixed results. In addition to riding tall as Ben Cartwright in Bonanza and going extraterrestrial as Commander Adama in the original Battlestar Galactica (1978 – 79), he landed lead roles in two slightly more obscure TV series: Griff (1973 – 75), a short-lived drama in which he played a former police officer turned private eye; and Code Red (1981 – 82), which found Greene again cast as a father figure, a Los Angeles Fire Department battalion chief whose sons (played by Andrew Stevens and Sam J. Jones) battle blazes. Neither show set the world on fire as an audience magnet, but Griff enjoyed a fleeting afterlife in reruns on the USA Network nearly a decade after ABC axed it. By that time, at least one of the series' guest stars — Nick Nolte — had gone on to bigger and better things.
---
From the February/March 2015 issue.