The former young gun stands and delivers as Henry Standing Bear in the hit western series, Longmire.
Lou Diamond Phillips has come full circle. Twenty-five years into his varied and successful career, he's back making westerns.
And that's great news for fans who loved him in Young Guns and Young Guns II. This time Phillips is riding high in the saddle as one of the stars of the hit TV series Longmire, the contemporary western crime thriller based on the Walt Longmire mystery novels by bestselling author Craig Johnson. Set in Big Sky country, the series set ratings records for the network when it premiered for a 10-week run in June.
The series stars Australian actor Robert Taylor as Sheriff Walt Longmire, a widower battling personal demons as he tracks down a murderer in the mountains of the fictional Absaroka County, Wyoming. Phillips plays the sheriff's oldest and closest friend and confidant, Henry Standing Bear. The two go back decades: Henry and Walt served in Vietnam together and Henry is the godfather to Walt's daughter, Katie. The owner of the Red Pony Saloon, Standing Bear relies on both his local pipeline at the bar and something he calls his OITs — Old Indian Tricks — bringing a keen sense of intuition to Longmire's dutiful police procedure. Together they set out to rebuild the sheriff's shattered life, one day and one mystery at a time.
"As a contemporary western, there's nothing like it on television today," Phillips says. "The look of the show is amazing — there's a rich and warm scope to the filming; it looks almost like a well-shot movie. And there's something old-fashioned about the books and series: The stories are about decency and characters who have a code of honor and a bit of nobility about them."
Photography by Shelle and Michael Neese
While Craig Johnson's bestselling books serve as inspiration and a jumping-off point for the series, Phillips says viewers should expect different stories and plot lines, and a great repertoire of characters. One of the great characters is, of course, his own. Much more than a sidekick, Henry Standing Bear is proud of his Native heritage and becomes a liaison for Sheriff Longmire and the adjacent Cheyenne Reservation. Several of the story lines involve the politics and policies between the Indian and white worlds, and Standing Bear is in the thick of the conflict.
It's an exciting prospect for Phillips, who says that when he got the Longmire pilot script more than a year ago, he immediately knew he wanted the role of Henry Standing Bear. "I fell in love with the script — the story had an amazing amount of depth," he says. "When I met with the producers we really hit it off." The creator of the Walt Longmire mystery books couldn't be happier that Phillips got the gig. "Lou was the only one who auditioned for the role of Henry Standing Bear who dropped all the contractions from his scenes," Johnson says. "From that, I knew he'd read the books."
In fact, after being cast, Phillips read all seven of the then-existing Walt Longmire books (the latest, As the Crow Flies, was published in early 2012). In the process, he says, he became a bit intimidated. "I'll never be as cool as the real Henry is," Philips says. "He is a Northern Cheyenne man who was educated at [the University of California,] Berkeley and was a member of AIM, the American Indian Movement. He's well-traveled, well-read, a great chef, and a wine connoisseur."
And there's a gravitas to the Longmire characters to live up to — as Phillips says, a kind of Gary Cooper or James Arness-Marshal Dillon mentality. As much as Standing Bear embodies a "cowboy up" attitude, he's also a steward of his Native heritage. For Phillips, it was important to stay true to the Cheyenne culture and represent the people with honor, dignity, and authenticity. "As soon as I was cast, I flew up to Montana to meet Marcus Red Thunder, the man who was the inspiration for my character," Phillips says. "I visited the rez, received a blessing from one of the Cheyenne elders, met with Tribal President Leroy Spang, participated in a sweat with a lot of the brothers, and got to experience their culture firsthand." They were so taken with Phillips that they adopted him into the tribe.
"The experience truly opened up my eyes," Phillips says. "I've played Lakota before and was adopted by the Lakota Nation after Young Guns, and given a Native name by the tribe, which translates to 'Star Keeper.' During that time I went to South Dakota and saw the conditions in Rosebud and Pine Ridge, so I was familiar with these worlds and it was interesting to find the differences between the Cheyenne, Lakota, and Navajo."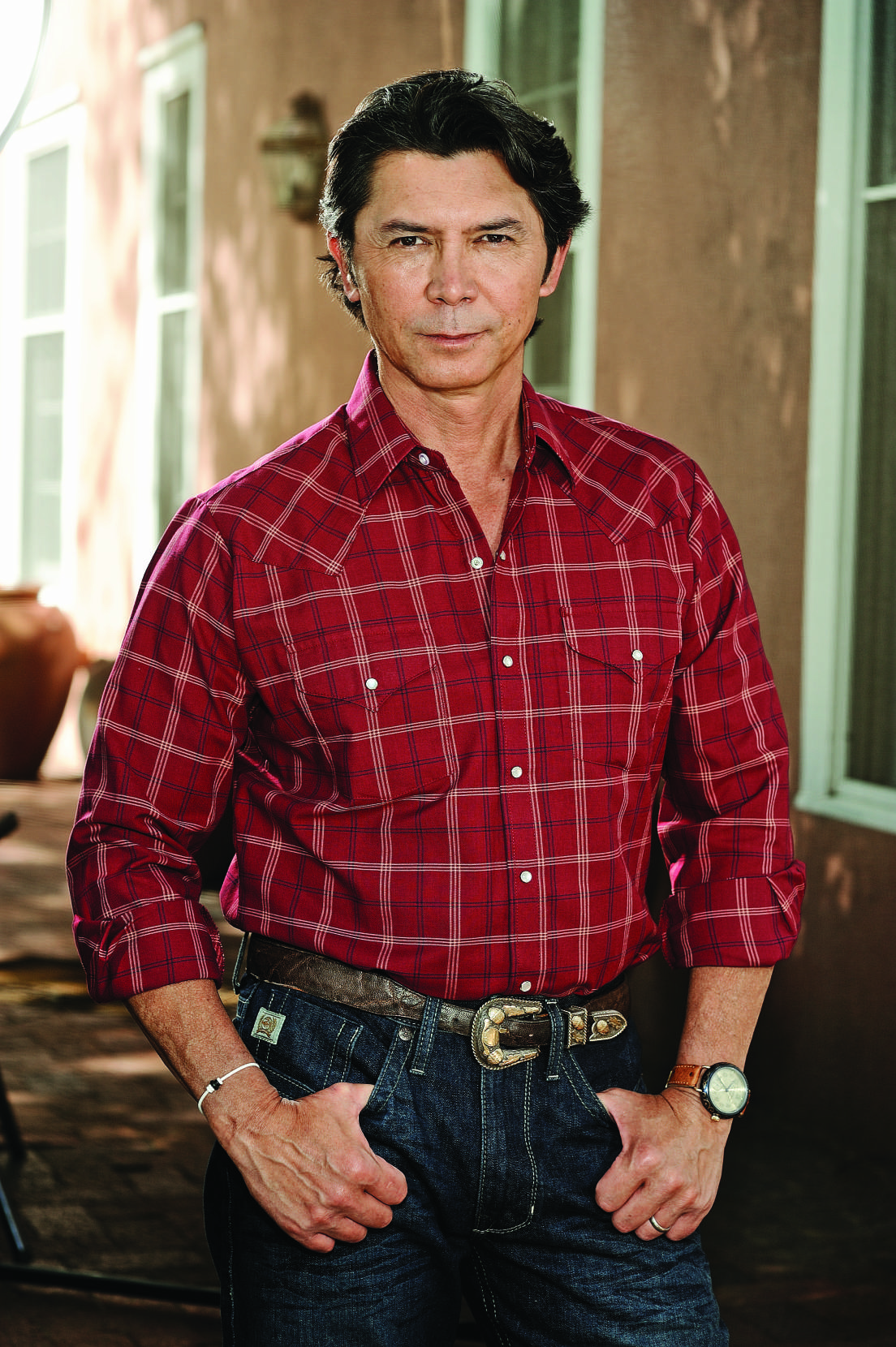 His turn as a Cheyenne man is the latest in a series of roles that have taken advantage of a hard-to-place handsome face that has allowed Phillips to play a rainbow of ethnicities. With his coal-black hair, almond-shaped eyes, and angular cheekbones, he could come from any number of backgrounds. Phillips is, in fact, half Filipino-Hawaiian and has some Cherokee (one-eighth), Spanish, and even Scottish-Irish blood. This remarkable blend has led to his being cast as Native Americans, Latinos, and even as the King of Siam in the 1996 Broadway revival of The King and I, a role that earned him nominations for a Tony Award and a Theatre World Award.
The ability to cross over racial lines and portray a wide array of characters from diverse cultures "has been a huge honor for me," Phillips says. "I've been able to represent the Mexican-American and Latino communities, playing a Bolivian in Che and a Puerto Rican in Stand and Deliver, as well as delving into aboriginal nations — Cherokee, Navajo, Lakota, and even Inuit in Shadow of the Wolf, a portrait of Inuit society in the mid-1930s, when outside influences were first arriving. It's gratifying to have played some white guys as well. This diversity is our country's quilt, and I'm certainly a representative of this ever-changing multicultural landscape."
On the subject of diverse roles, Phillips likes to tell a story that goes back more than 20 years, when he was directing Cecilia Peck, the daughter of legendary actor Gregory Peck, in the independent film Ambition, which Phillips wrote. "I experienced one of the great moments of my life when Gregory Peck invited me over for a glass of wine and he told me, 'You put me in the mind of my good friend Tony Quinn.' "
Peck was talking about acting great Anthony Quinn, who was known for playing a wide range of characters, from a Greek peasant musician in Zorba the Greek to a Mexican revolutionary in Viva Zapata! to an Arab leader in Lawrence of Arabia. Phillips took the compliment and ran with it. More than two decades into his wide-ranging career, there are plenty more diverse roles left to tackle. "Hopefully," Phillips says, "there will always be guys like me to fill those spots."
The story of his own life began on the Subic Bay Naval Station in the Philippines, where he was born Louis Diamond Upchurch in 1962. His interesting name has an interesting back story: His father, Gerald, named him after U.S. Marine Corps Master Gunnery Sgt. Leland "Lou" Diamond (known as "Mr. Leatherneck," he is considered one of the finest Marines of all time); after his dad died, Phillips took his stepfather, George's last name.
Raised in Flour Bluff, a small town near Corpus Christi, Texas, Phillips worked at the local Whataburger hamburger chain in high school. Though he was offered scholarships to both the U.S. Naval Academy and Yale University, he opted to attend the University of Texas at Arlington, where he earned a Bachelor of Fine Arts degree in drama with a minor in English. During college he wrote three plays and performed with The Zero Hour comedy troupe.
After graduating, Phillips spent the next four years performing with the Front Room Troupe at the Stage West Theatre in Fort Worth, Texas, tackling such classics as Hamlet and Faust. He also taught some acting at Southern Methodist University and appeared in several made-in-Texas independent films, including one about a brutal rape on a Texas ranch called Trespasses, which Phillips "rescued" by rewriting the script, adding some scenes, and casting himself as one of the villains.
So he was well-prepared when he found his big break in 1987 and was cast in the starring role in La Bamba. The now-classic biopic features Phillips as Ritchie Valens, the Latino rock-and-roll star whose meteoric rise was cut short at the age of 17 in the same 1959 plane crash that took the lives of Buddy Holly and J.P. "The Big Bopper" Richardson.
"That was a very exciting and interesting time for me," Phillips says. "This was my Cinderella story, and the success that was happening to Ritchie was happening to me in real life, so I just opened up my heart to what he must have been going through and played it on the screen. But I did my research, reading the stack of newspaper stories from the 1950s about his career and the plane crash." Phillips did his musical homework, too. Although the music for the film was performed by Los Lobos, Phillips learned 15 songs and did some guitar playing.
The role made him a star. But there was a slight downside: Phillips was only paid scale for La Bamba, which at the time was $1,000 a week. Within six months he was broke and entertaining thoughts of moving back to Texas. "The film was in the can, but I was an unknown in the lead and the story centered around a then relatively obscure Mexican-American rock star," Phillips says. "Nobody was beating down my door."
Luck knocked twice when Phillips landed a guest-starring role on Miami Vice, appearing with both Viggo Mortensen and Annette Bening. "It basically paid me as much as I made on the six-week shoot of La Bamba." The money was good — and so was an opportunity that unexpectedly presented itself. In the episode, Phillips had a scene with series regular Edward James Olmos. When Olmos asked him what he was doing the next month, Phillips thought it was an invitation to lunch. It was actually an invitation to audition for Stand and Deliver.
Phillips did indeed deliver as a gang member whose life is changed by a tenacious and caring math teacher (Olmos). Stand and Deliver was another huge success: Phillips' intense performance garnered a Golden Globe nomination for best supporting actor, Olmos received an Oscar nomination for his inspiring performance, and in 2011 the film was inducted into the National Film Registry.
Within months of the critically acclaimed Stand and Deliver release in March 1988, Phillips was back on the big screen, this time with a box office hit. In Young Guns, Phillips joined an acting posse that included Emilio Estevez, Charlie Sheen, and Kiefer Sutherland. Phillips was cast as Jose Chavez y Chavez, a Navajo-Mexican desperado who rides with Billy the Kid. The retelling of the Kid's misadventures during the 1878 – 79 Lincoln County War in New Mexico opened at No. 1, earning more than $45 million at the box office. A financial success, the film has also been called the most accurate portrayal of the Lincoln County War ever brought to the big screen. By the time the sequel, Young Guns II, was released in 1990, Lou Diamond Phillips was a superstar on a winning streak.
In the Young Guns movies, Phillips had worked with Hollywood horse wrangler Dale Gibson, who had taught him some trick riding and doubled for him during scenes that called for more advanced horsemanship skills. Phillips traded the horse for a helicopter in 1996 for yet another hit movie, Courage Under Fire.
Costarring with Meg Ryan and Denzel Washington, Phillips plays Staff Sgt. Monfriez, the soldier ultimately responsible for the death of Ryan's character, chopper pilot Capt. Karen Walden, who was being vetted posthumously for the Medal of Honor. "I went through a mini Hollywood boot camp to prepare for the role," Phillips says. "But the one thing that really nailed Monfriez for me was when I asked my dad, George, a Vietnam vet, if he could ever take orders in the trenches from a woman. He replied, 'Son, I'm afraid not.' That was the key to the character for me."
Transitioning to the small screen 12 years ago, Phillips has had a busy decade in TV with some compelling story arcs on popular series, including 24 (he remains good friends with Sutherland from Young Guns days), Law & Order: Special Victims Unit, Numb3rs, SGU Stargate Universe, and Southland. He also hosts the Military Channel's An Officer and a Movie, which features a classic military movie and an interview with a decorated veteran or a military historian, and allows Phillips "to profile the people who I think are the real heroes."
Back on the big screen, in 2008 Phillips costarred with Benecio Del Toro in Che, Steven Soderbergh's film about the life of Ernesto "Che" Guevara. And more recently he teamed up again with Edward James Olmos for the Latino musical drama Filly Brown, a 2012 Sundance Film Festival selection about a Latina rap artist (played by newcomer Gina Rodriguez) from a broken home who is vying for stardom in a male-dominated field. Slated for a fall theatrical release, the film shows another side of Phillips as the girl's struggling father.
Off-screen, Phillips is every bit the multifaceted character. He's very involved in wide-ranging philanthropic work, including causes that benefit Native Americans and disadvantaged youth. He's also a strong advocate for aging and ailing Filipino World War II veterans; the star, whose father, stepfather, and five Filipino uncles served in the U.S. Navy, testified in a Congressional subcommittee hearing, urging the speedy passage of benefits legislation for veterans.
In his free time, Phillips plays in a rock band (The Pipefitters), loves to cook (he was a judge on Iron Chef America), and can play poker with the best of them — literally. He competed in the 2009 World Series of Poker No Limit Hold'em Championship (placing 186th) and participated in the original Celebrity Invitational World Poker Tour.
As for the looks, talent, and hard work that have taken him to the top? Ever the poker player, Phillips chalks some of his winning hand up to luck. "I felt I was the luckiest guy in the world when I landed La Bamba and I still feel the same way," he has said. "I feel fortunate to be employed in the film business and still be standing. ... It's not a matter of talent or hard work, it's just the breaks sometimes, you know? I've been fortunate that the right film has come along for me every couple of years. I've been lucky, I think."
With the Longmire series notched on his belt, it looks like Lou Diamond Phillips' lucky streak has no end in sight.
---
From the September 2012 issue. Longmire, including its current season, is now available on Netflix Instant.