Fashion designer and activist Stephanie Crowchild chats with us about her designing process, intergenerational healing, and the proudest moment of her career.
Stephanie Crowchild is ready to share her gift with the world. The Native fashion designer and activist was featured in our Fall Fashion 2022 photoshoot, and we haven't been able to take our eyes off of her since. Between having her designs showcased at New York Fashion Week and collaborating with industry giants such as Pendleton and Hudson Bay, Crowchild is an unstoppable force in the fashion industry. Her most recent endeavor is sharing her talent and insight with her community through her sewing and design classes. Crowchild stopped by to let us into her brilliant mind for a few moments, touching on her creative process, future collaborations, and her ultimate goals for her career.
---
Cowboys & Indians: How did your fashion design journey begin?
Stephanie Crowchild: As a child, I was always drawn to making my own doll and paper doll clothes as a form of entertainment. As I got older, I started sewing in junior and senior high, where I fell in love with it. I knew it was a passion of mine. When I was 17 years old, I made my first Pendleton jacket with my mom and aunty.
C&I: What draws you to fashion design?
Crowchild: What draws me is the feeling of creating something that you envision and turning it into reality. I also love seeing the smiles on people's faces when I've given them their own custom piece or taught them how to make their own custom Pendleton coat.
C&I: You've done a lot of collaborations with Pendleton and Hudson Bay blankets. What draws you to those brands?
Crowchild: What draws me to utilize HBC and Pendleton blankets is the beautiful designs, because they are Native American-inspired designs and a lot of us Indigenous peoples have always had a respect for blankets. With HBC, I love revitalizing and decolonizing the dark history of their past with my people. It's a form of intergenerational healing, and I feel empowered after cutting up an HBC blanket and turning it into my own piece of wearable art.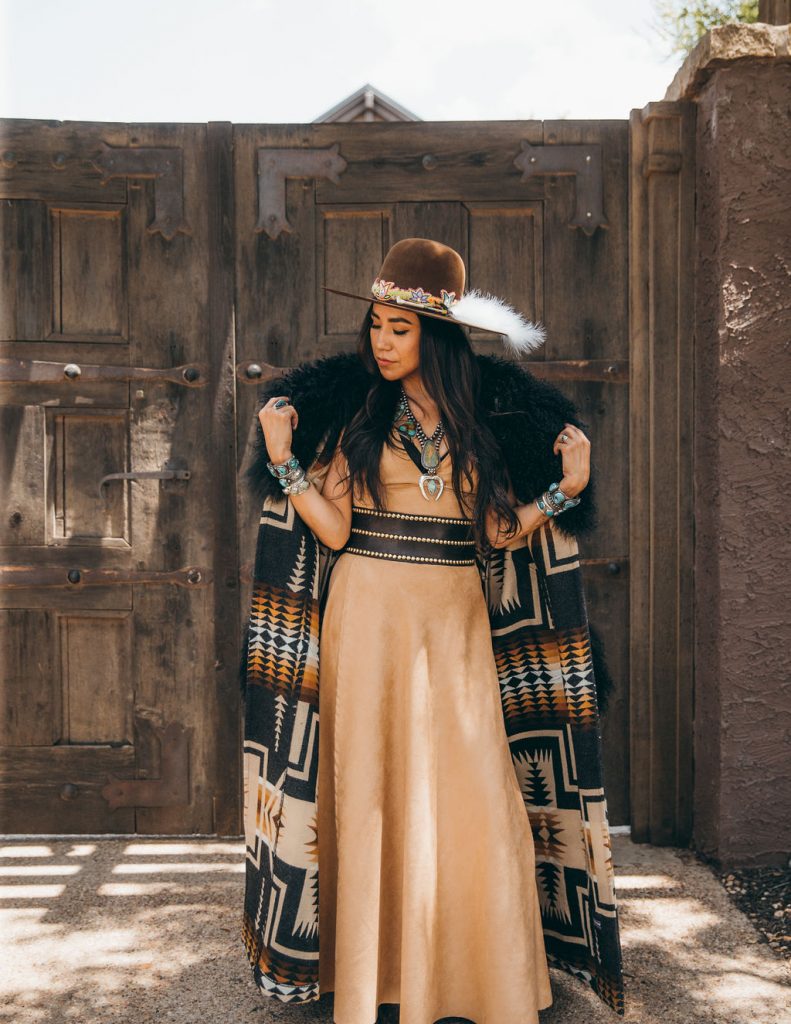 1/2
---
C&I: Is there anyone you hope to collaborate with in the future?
Crowchild: Where do I begin? I would love to collaborate one on one with Pendleton, Hudson's Bay, and Manitobah Mukluks to do a boot-and-jacket combination. I am also currently working with some Eighth Generation wool blankets. They are an Indigenous-owned company out of Seattle, Washington.
C&I: Recently, you've been sharing your talent in more than one way. What compelled you to begin teaching sewing classes?
Crowchild: What compelled me to start the sewing lessons was when a friend initially asked me if I would teach her women's group. I was hesitant at first but my family encouraged me to give it a try, and ever since April of 2022, I have taught over 100 people within the first year. What keeps me going is seeing the smiles and pride once they have finished their own coats. I love doing before-and-after videos of their progress.
---
C&I: What is your ultimate goal for your fashion design?
Crowchild: My ultimate goal is to continue to work alongside Indigenous communities as a form of intergenerational healing through sewing. Our Indigenous practices, such as sharing and kindness, are an inherent right to help one another grow and succeed, and not to gatekeep our knowledge. I also plan on having my own storefront in my Nation, with in-person sewing lessons and online lessons for people of all races as I encourage cultural appreciation and inclusivity.
Prayers bring positivity and good energy and that's my motto: "What we think is what we attract, and what we wear is how we feel."
C&I: What is the proudest moment of your career?
Crowchild: Proudest moment of my career was being featured in Cowboys & Indians. As a child, my mom always had the magazine and I was always in love with the Western aesthetic, style, the horses, and their beauty. That was a huge accomplishment, along with being in New York Fashion Week. But now my greatest attribute is sharing knowledge with others.
C&I: What are some of your favorite pieces you've designed?
Crowchild: Out of all of them, my favorite piece is the one Ashley Callingbull wore for me in Times Square, New York City. I actually had a dream of the two-piece concept, and the next morning I woke up, prayed, smudged, and re-created what was envisioned.
View this post on Instagram
---
C&I: How do you get yourself in the designing mindset?
Crowchild: My method prior to creating any piece is very simple. Whenever I cut a blanket or fabric, I always say a prayer, along with smudging my space, my machine, my scissors, and myself before any cut is made. Prayers bring positivity and good energy and that's my motto: "What we think is what we attract, and what we wear is how we feel."
C&I: What would you like people to feel when they put on your clothing?
Crowchild: Pride, joy, love, and uniqueness are what I hope people feel when they put on a piece for me. I put a lot of love, good energy, and prayers into each piece that I create. Our Tsuu t'ina Ninisha values consist of certain values that I hope to impart when people put on a piece.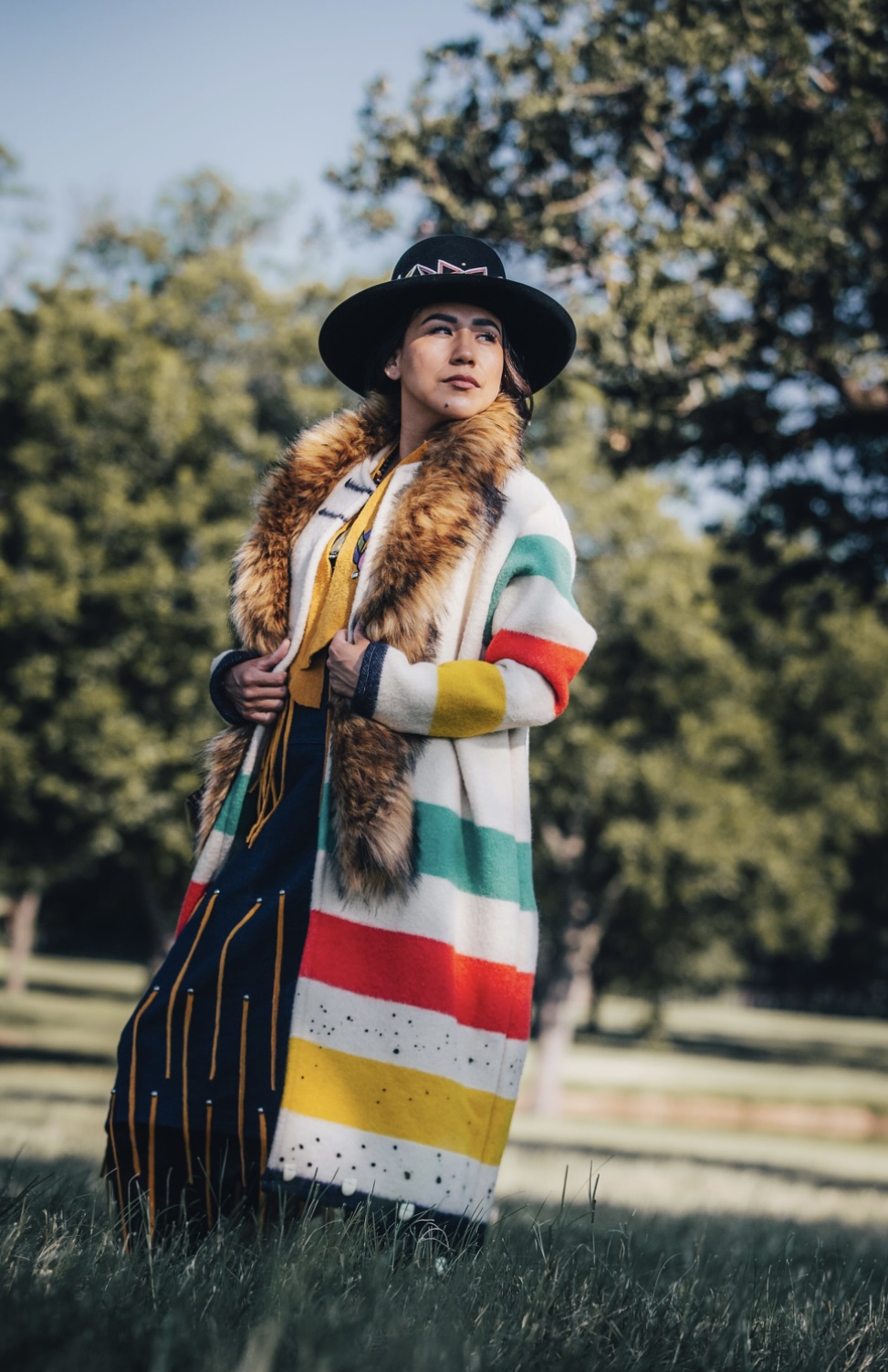 ---
Check out Stephanie Crowchild on Instagram to learn more about her designs and endeavors. And check her out in our Fall Fashion 2022 photoshoot.