Because we could host royal weddings, too, if we wanted.
Official royalty might not exist here in the United States, but that doesn't mean we don't have American castles to offer our people. In fact, many of these former fortresses and touristy châteaus are open to the public, and that includes some of the locales in this roundup of gorgeous and resilient estates West of the Mississippi. While the Northeast claims the majority of historic strongholds in this country, there's still plenty that California and Colorado, Texas and Washington have to offer, not to mention Louisiana, Kansas, and Hawaii. Don't miss one of these would-be royal landmarks on your next road trip through the American West.
"A 500-year-old Tudor Gothic historic site known as 'the house that love built.'"
"An authentically-built, medieval inspired Tuscan castle and winery in world famous Napa Valley."
Glen Eyrie | Colorado Springs, Colorado
"Glen Eyrie serves a sanctuary and safe haven of transformation and inspiration."
"Once an estate for a newspaper magnate, Hearst Castle is now a historic house museum and a California State Park."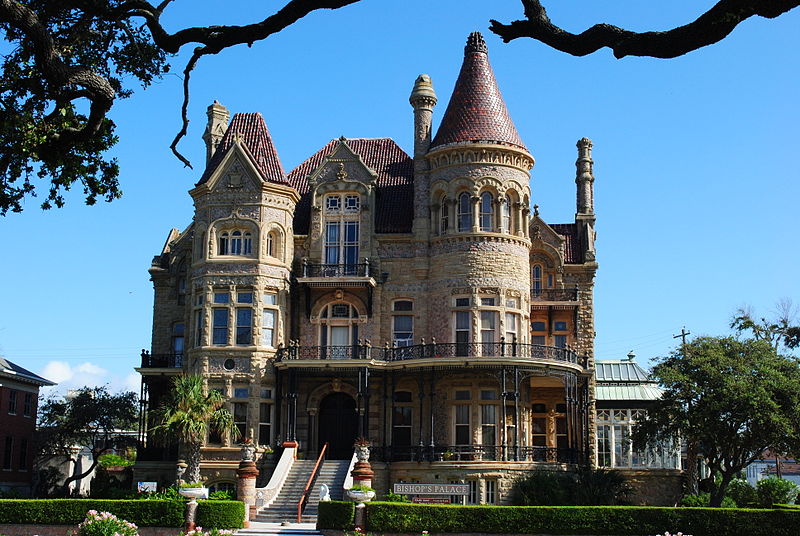 "Architectural historians list the Bishop's Palace (Gresham House) as one of the most significant of Victorian residences in the country."
"It was and is an engineer's dream home, a wealthy matron's vacation home, and a man-of-mystery's hideout and getaway."
"Coronado Heights receives its name from Francisco Vasquez de Coronado, who visited central Kansas in 1541, looking for the Native American community of Quivira, where he was told 'trees hung with golden bells and ... pots and pans were beaten gold.'"
"Nichols Hall was built in 1911 as a gymnasium with a basketball court, swimming pools, and office space for the military science and physical education departments [at Kansas State University]."
"The 165-year-old statehouse has withstood war, fire, scandal, bitter debate, abandonment, and an occasional fistfight."
Vikingsholm | South Lake Tahoe, California
"Located in Emerald Bay at Lake Tahoe, this magnificent 'castle' is a unique blend of nature's spectacular beauty and man's architectural ingenuity."
"Built in 1882 by King Kalakaua, Iolani Palace was the home of Hawaii's last reigning monarchs and served as the official royal residence and the residence of the Kingdom's political and social life until the overthrow of the monarchy in 1893."
Photography: Courtesy Thornewood Castle, Castello di Amorosa, Glen Eyrie, Hearst Castle, Bishop's Palace, Scotty's Castle, Coronado Heights, Nichols Hall, Louisiana's Old State Capitol, Vikinsholm, and Iolani Palace. Cover images is Castello di Amorosa.
---
More Home & Ranch
Real Estate Roundup: Saddle Up, Partner!
Frank Lloyd Wright's West Coast Homes
Home Tour: Southfork Ranch