Get a taste of pre-colonial Southwestern cuisine with these Pueblo recipes.
In a small adobe structure the size of a storage shed, next to her adobe on Santa Clara Pueblo, 27 miles north of Santa Fe, renowned bronze and clay sculptor Roxanne Swentzell keeps dozens of old jam jars filled with seeds from past crops grown on her scant of an acre garden, neatly lined up and labeled on wooden shelves that she built herself. Saving seeds isn't that unusual — it's how anyone who farms can replicate what they grew one year to the next — but Swentzell's seeds are uncommon. They are from corn, squash, beans, and other staples of the Pueblo diet that were grown in northern New Mexico before the arrival of the Spanish, who brought their own foods.
The introduction of that foreign diet, Swentzell learned, was the beginning of the downfall of the Pueblo people, who, like other Native Americans, have some of the highest rates of diabetes across the global population.
Her cookbook, The Pueblo Food Experience Cookbook: Whole Food of Our Ancestors (Museum of New Mexico Press, 2016), is a collection of recipes and stories about how a trial experiment to eat ancestral foods became a solution to many of the chronic health problems her people face today. Below, Swentzell shares a few of those recipes.
Atole
(Serves 6 or more)
2 cups boiled water
Cold water, as needed
½ cup roasted cornmeal
Salt, to taste
Boil water in a saucepan. Place cornmeal in a cup and add a small amount of cold water, slowly mixing until there are no lumps. Slowly pour cornmeal into boiling water while stirring constantly. Add salt if desired. The mixture can also be made thicker and used as cereal.
Blue Corn Piñon Pancakes
(Serves 6 or more)
½ cup quinoa flour
1 cup blue cornmeal
3½ teaspoons baking powder
1 teaspoon salt
1¼ cups water
1 egg
3 tablespoons sunflower oil
1 tablespoon berries, such as blueberries
¼ cup piñon nuts, shelled
Berries and shelled piñon nuts for topping (optional)
In a large bowl, sift together quinoa flour, cornmeal, baking powder, and salt. Form a well in the center and pour in the water, egg, and oil. Add piñon nuts and berries. Mix until smooth. Heat a lightly oiled griddle or frying pan over medium-high heat. Pour batter onto the griddle, using approximately ¼ cup for each pancake. Turn when bubbles appear. Brown on both sides and serve hot. Top with berries and piñons (as much as you like).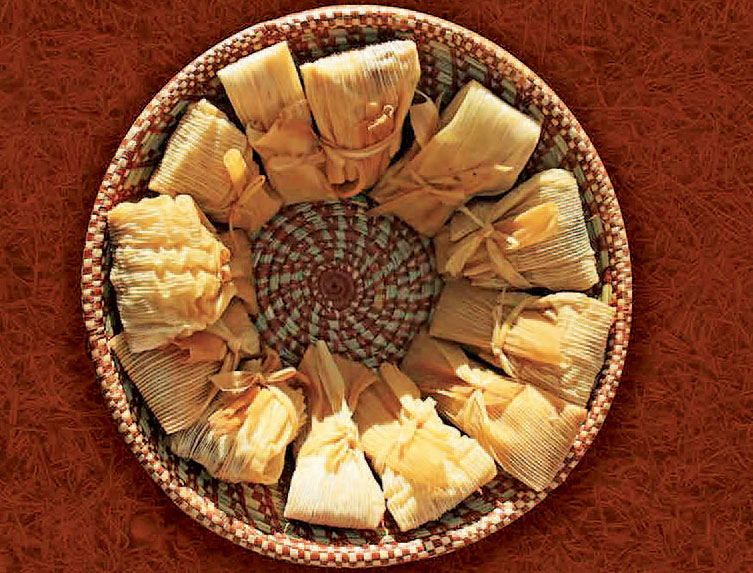 Turkey Tomatillo Tamales
(Serves 6 or more)
4 tomatillos
1 pound boiled turkey meat
½ teaspoon salt
2½ cups masa (corn dough, purchased from a Latin American market or made from a dehydrated flour brand like Maseca, available at major supermarkets)
Water, as needed
Turkey fat and grease
2 dozen corn husks
Dice tomatillos into small pieces. Shred turkey meat into small pieces. Add tomatillos to shredded turkey. Add salt and stir well. Mix water and grease into the corn masa until it feels and looks like dough. If it needs more moisture, add water. Soak corn husks in water until they are soft and malleable. Place about 1 tablespoon corn masa onto each corn husk and flatten masa in the center. Add about 1 heaping teaspoon turkey-tomatillo mix to the middle of the masa and roll up each husk. Tie the ends of the corn husks, but not too tightly. Steam tamales for at least 1 hour.
Trail Mix
(Serves 6 or more)
1 cup piñon nuts
1 cup pumpkin seeds
1 cup sunflower seeds
1 cup dried currants
1 teaspoon salt
Make sure all nuts and seeds are properly shelled. Place nuts and seeds in a saucepan and toast lightly over medium heat for 2 – 3 minutes, stirring constantly. In a large bowl, combine all ingredients. Stir well.
---
Recipes edited and reprinted with permission by the Museum of New Mexico Press from The Pueblo Food Experience Cookbook: Whole Food of Our Ancestors edited by Roxanne Swentzell and Patricia M. Perea (Museum of New Mexico Press, 2016).
Read our interview with Roxanne Swentzell in our April 2017 issue.